Voracek suspended two games for hit on Boychuk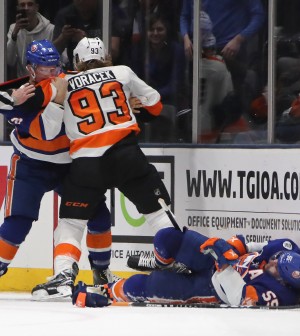 The NHL is punishing Philadelphia Flyers forward Jakub Voracek for his actions in a recent game.
The league has officially suspended him for two games without pay for his controversial hit on New York Islanders defenceman Johnny Boychuk during the Flyers' 5-2 win on Saturday night.
The incident occurred with 14:20 remaining in the third period when the two players were pursuing the puck as it was coming up the boards from behind the Flyers net.
As you will see in the footage below, Voracek notices Boychuk approaching as he waits for the puck to come to him around the boards. As Boychuk gets within distance, he sticks his upper back out at the Islanders defenceman and makes direct contact with his head. Voracek was assessed a five-minute major for interference on the play.