Vince Carter plans to return for a record-breaking 22nd NBA season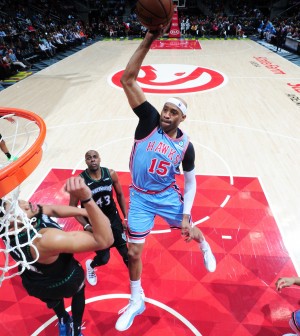 Vinsanity will be entering another decade.
Atlanta Hawks swingman Vince Carter said this week that he wants to continue playing for at least another season in 2019/20.
"Yeah, I think I could stretch it out one more…I think I could give it another year, so why not?" said Carter while appearing on ESPN's Pardon The Interruption on Thursday.
"We'll see what happens."
Carter, who turns 43 next January, will be participating in his 22nd NBA season if he is able to sign on with a team.
The significance of that? Well he will break the NBA record for most seasons played, and become the first player to have played in four different decades.
Carter began his career with the Toronto Raptors during the 1998/99 season, and has averaged 17.3 points, 4.4 rebounds and 3.2 assists split between eight different teams in 1466 combined regular season games through his illustrious career.
He is currently excelling in his 21st season with the Hawks, averaging his highest point total since 2013/14. He also recently became the oldest player in NBA history to record at least 20 points in a game after sinking seven three-pointers for 21 points in the team's 114-113 loss to the Miami Heat on Monday.