Rays "keeping in touch" with free agent closer Craig Kimbrel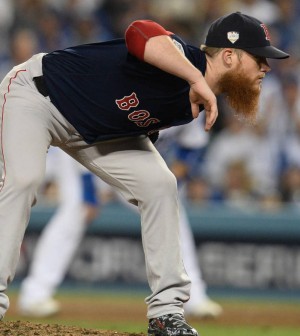 With seven MLB All-Star appearances, two Reliever of the Year awards, and a World Series under his belt, it's a shock that veteran closer Craig Kimbrel hasn't found a home yet a month-and-a-half into the 2019 MLB season. But it appears a team's interest is heating up.
According to reports, the first-place Tampa Bay Rays remain interested in signing Kimbrel, and the two sides have been "keeping in touch" as the season progresses.
The 30-year old has put up incredible numbers throughout his career. Through nine seasons and 542 regular season games split between the Atlanta Braves, San Diego Padres and Boston Red Sox, Kimbrel has posted a combined 31-19 record, 1.91 ERA, 0.92 WHIP, 333 saves and a 90.7 save percentage to go along with the rest of his accolades.
Adding Kimbrel to the fold would add extra firepower to an already potent Rays bullpen, which ranks third in the MLB with a 3.21 ERA through 39 games.