Klay Thompson calls for Warriors fans to bring more energy at home games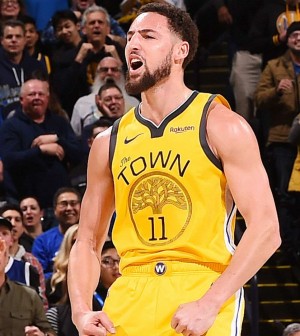 Is it possible that too much winning can lead to jadedness? Golden State Warriors fans are putting that theory to test.
All-Star shooting guard Klay Thompson noticed something during the team's 115-111 loss to the Phoenix Suns on Sunday: the fans are simply not bringing the same amount of energy as in previous seasons.
"I expect our crowd to be a little more into it." said Thompson following the loss.
"Like, I know it's not the playoffs, but it is our last go-around at Oracle. Least you can stand up or something when we make a good play, especially in the beginning. We need that energy, especially this time of the year. It's hard to conjure up energy every single night because you're looking forward to the playoffs and that run,"
The Warriors have struggled as of late, losing four of their past six games and dropping three straight at the formally hostile Oracle Arena.
Thompson is averaging a career-best 22.4 points, 3.9 rebounds, and 2.3 assists in 63 games this season.