Anthony Davis still wants to be traded despite Pelicans winning NBA Draft Lottery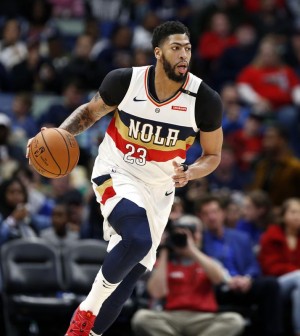 The New Orleans Pelicans luck at the NBA Draft Lottery has done little to persuade Anthony Davis' desire to be dealt elsewhere.
According to reports, the 26-year old has not changed his mind regarding his trade request despite the Pelicans winning the number 1 overall pick and the right to draft Zion Williamson next month.
The 25-year old, who has spent seven seasons with the Pelicans after being selected first overall in the 2012 NBA Draft, is eligible for free agency following the 2019/2020 campaign.
With the numbers he has put up throughout his career, there will be no shortage of teams lining up to acquire him before the trade deadline. The New York Knicks, Boston Celtics, and Los Angeles Lakers are among the teams prepared to most aggressively pursue Davis in trade talks this offseason.
The Lakers were pushing around to acquire Davis at this past season's trade deadline, but the previous Pelicans management team did not like any of the offers they were receiving, and opted instead to wait until the summer to see if other teams can exceed the strength of the offer Los Angeles put together.
Davis has averaged 23.7 points, 10.5 rebounds, 2.4 blocks, 2.1 assists and 1.4 steals in 466 regular season games. He averaged career highs in rebounds, assists and steals despite playing in just 56 games in 2018/19.
He is also a six-time NBA All-Star, three-time NBA blocks leader, and been selected to All-NBA First Team three times, the NBA All-Defensive Second Team twice, and the NBA All-Defensive First Team in 2018.