Marcus Smart sticks up for teammate Kyrie Irving following series loss to Bucks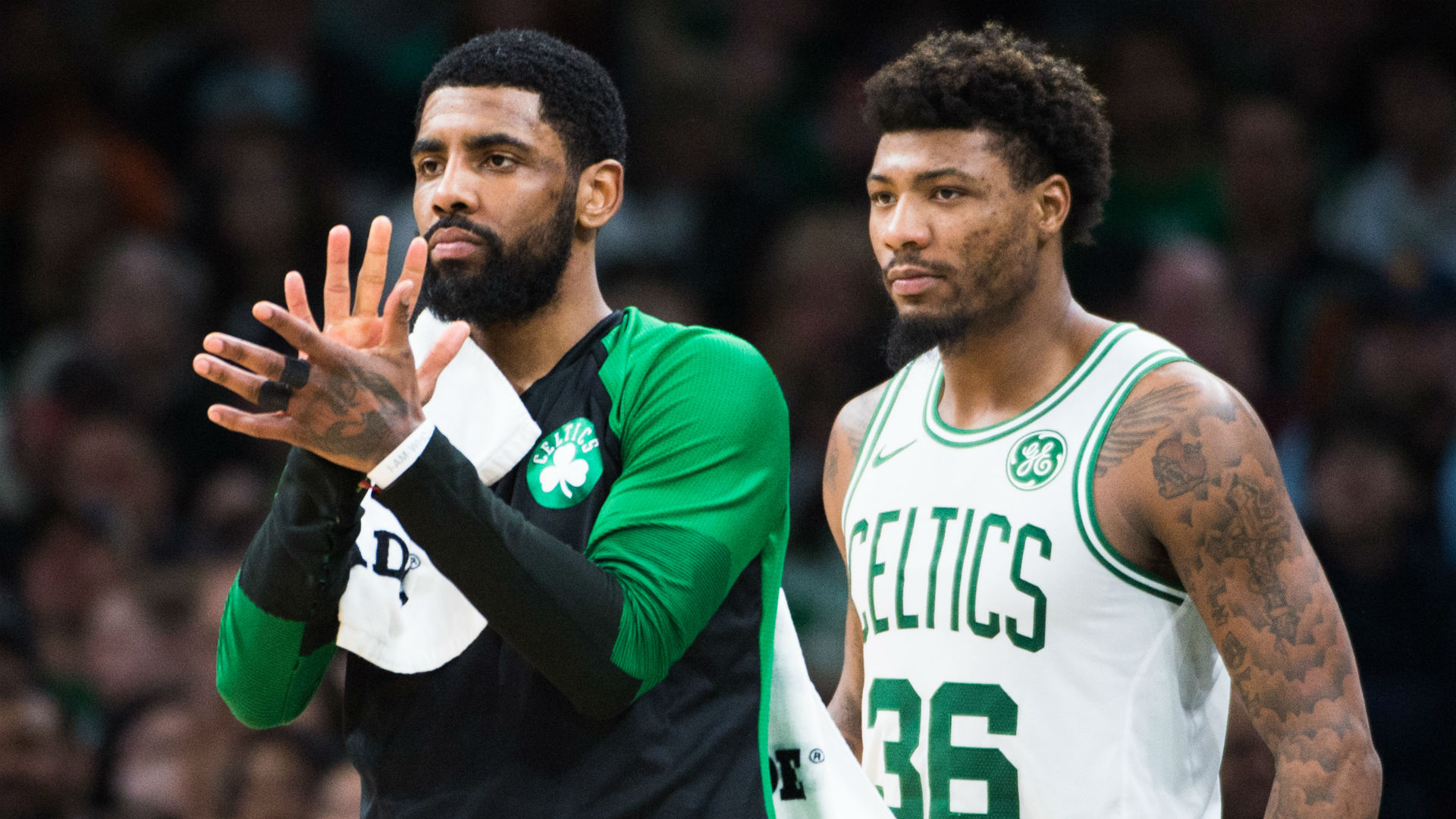 A lot of the blame for the Boston Celtics' lacklustre effort in their second round series against the Milwaukee is being directed towards none other than Kyrie Irving.
From demanding a trade from the Cleveland Cavaliers a few seasons ago so he can lead his own team, and basically guaranteeing that he and his Celtics teammates will take their game to another level come playoff time, Irving's was simply unable to put his money where his mouth is against the Bucks.
During the series, which lasted only five games, the All-Star averaged just 20.4 points, accumulated a plus/minus of -37, and shot just 30.1% from the floor (25 for 83) in the team's four losses.
While the media has been relentlessly attacking him, his Celtics teammate Marcus Smart has decided to take a stand against the hate and defend the criticism being directed towards him.
"We just couldn't find a way to do it. It's nobody's fault. It happens…It's four other guys out there, 13 other guys on the team. Coaches and everything. To just blame it on one guy is bullshit." said Smart.
He also called out those that claimed he messed up with the Celtics' chemistry.
"He was forced into a situation where it was business over the friendships. He had to come into a situation knowing this is a group of guys that had something going before [he came] here. 'How will I fit in?' He didn't want to disrupt that. That says a lot. This is Kyrie Irving we're talking about it, and he's worried about coming in and disrupting us. We took him in with full arms. We tried to understand. But like I said, we never really understood because we're not in his shoes. That's just a bulls- statement to say his leadership skills killed us."
Raptors become first Canadian team to capture NBA title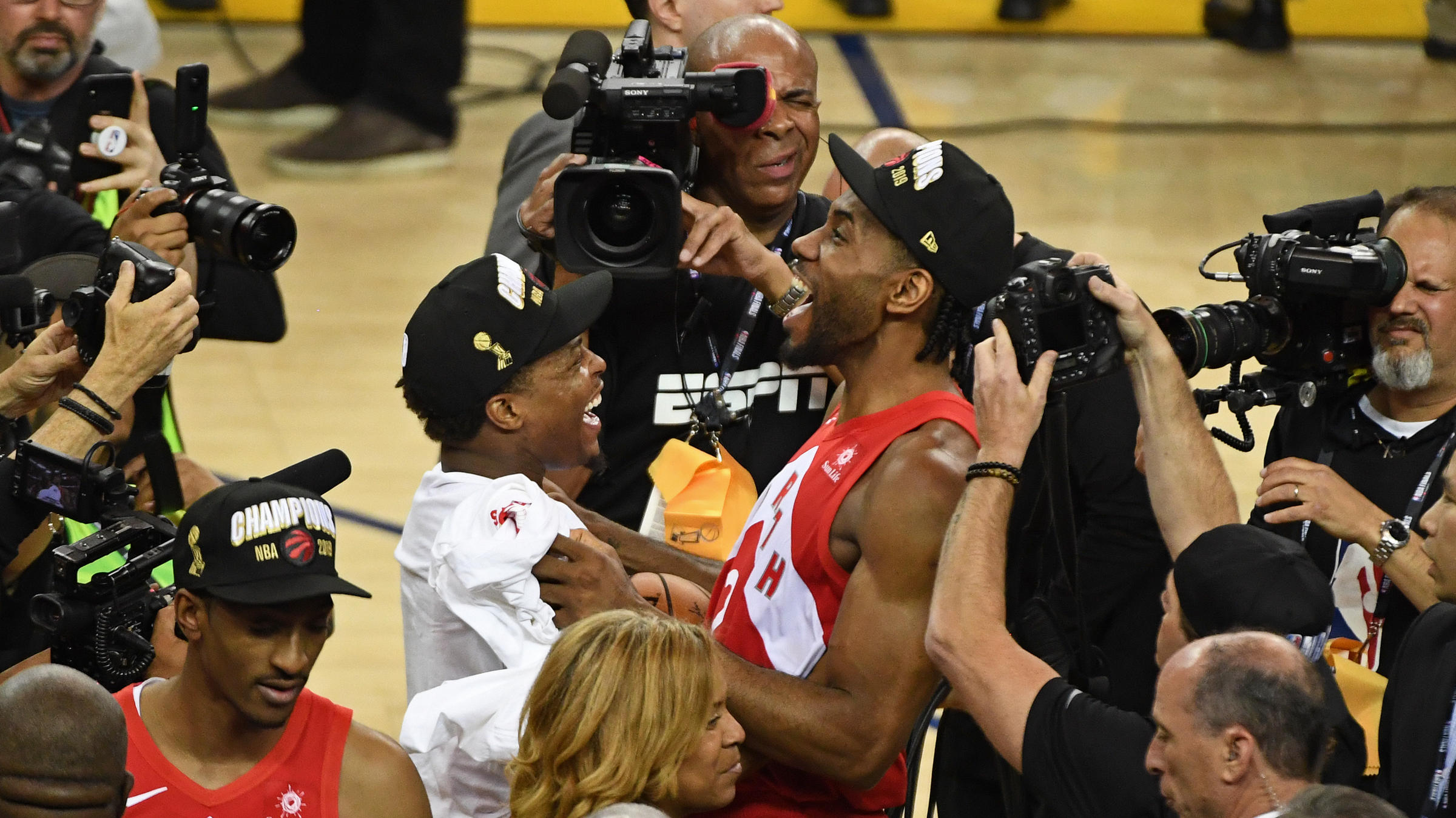 For the first time in NBA history, the Larry O'Brien Trophy is heading north of the border.
The Toronto Raptors officially won the 2019 NBA championship after defeating the Golden State Warriors 114-110 in a thrilling Game 6 at Oracle Arena.
After a back-and-forth first half, the Warriors appeared to be gaining some momentum in the third quarter until Klay Thompson suffered a knee injury when he landed after a dunk attempt contested by Danny Green. Thompson shot his two free throws and left the game for good. The team later confirmed he sustained a torn left ACL, which will likely keep him out of action for the majority of 2019/2020.
The fourth quarter wasn't pretty offensively, but Fred Van Vleet kept the Raptors alive with a couple of clutch three-pointers, and the Raptors were finally able to put the game away in the final minute thanks to some clutch defense, a Pascal Siakam jumper, and Kawhi Leonard's free throws.
Kawhi Leonard wasn't at his best, but managed to finish the game with 22 points, six rebounds and three assists in 41 minutes, and won his second career NBA Finals MVP to go along with his second NBA title.
"This is what I play basketball for…his is what I work out for." said Leonard after the game.
His teammate Kyle Lowry also praised him for his incredible performances throughout the 2019 postseason.
"I think he's the best two-way basketball player in the NBA," said Lowry.
"He just goes. You know, I've seen some stuff from him this year that you just say, 'Wow.' You do. You say, 'Wow.' You appreciate the work that he's put in. He works extremely hard at his game and works extremely hard on his body. And he loves this basketball thing. Loves it."
The team apparently celebrated with a trip to Las Vegas, and will hold their championship parade in Toronto starting at 10am/ET on Monday.
Anthony Davis cites Knicks, Lakers as his preferred trade destinations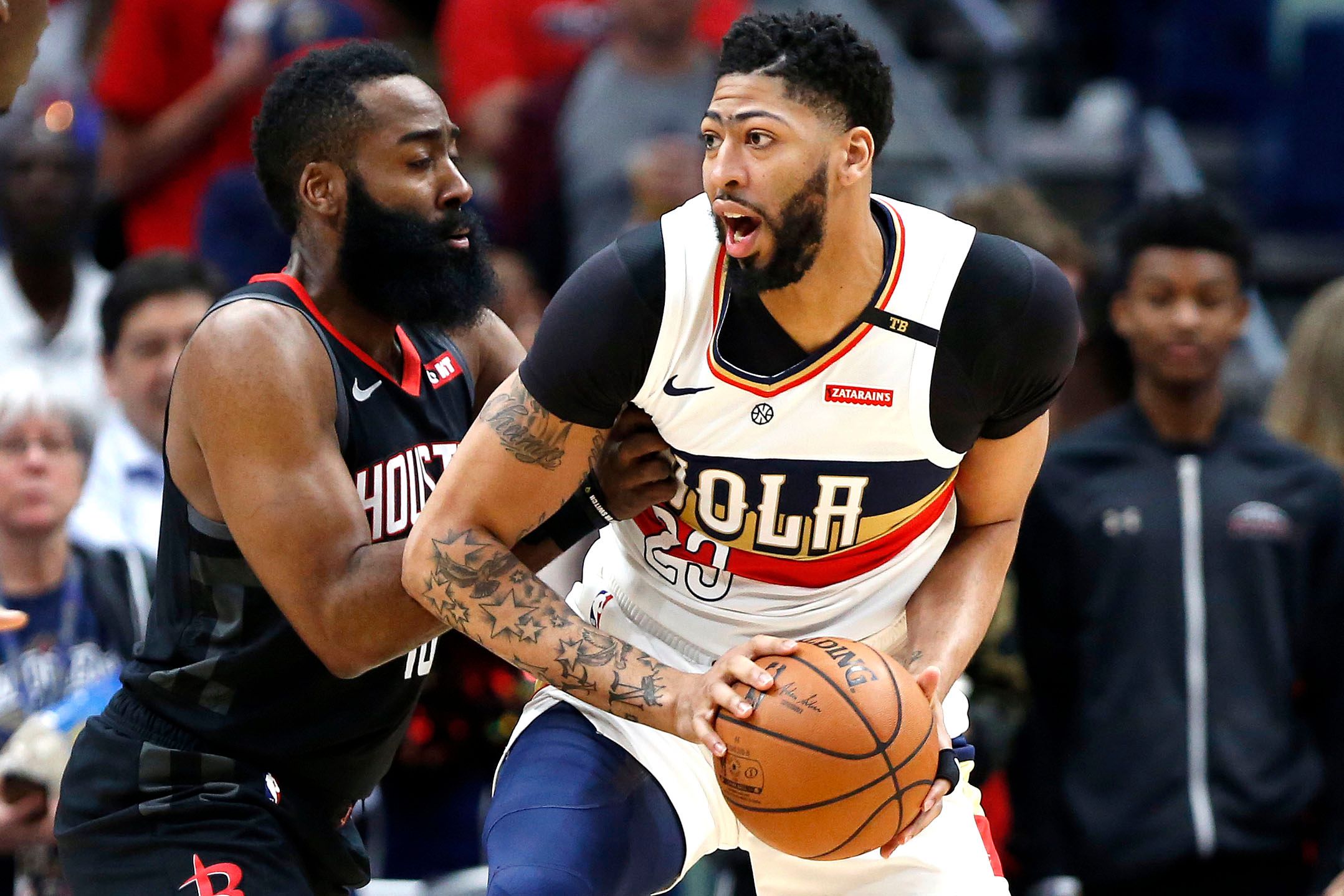 In case you haven't heard, New Orleans Pelicans star Anthony Davis still wants to be traded, and prefers to get dealt to a couple of the league's biggest markets.
According to reports, the 26-year old has the New York Knicks and Los Angeles Lakers listed as his most preferred trade destinations this offseason.
Davis, who has spent seven seasons with the Pelicans after being selected first overall in the 2012 NBA Draft, is eligible for free agency following the 2019/2020 campaign.
The Lakers were pushing hard to acquire Davis at this past season's trade deadline, but the Pelicans' management team at the time did not like any of the offers they were receiving, and opted instead to wait until the summer to see if other teams can exceed the strength of the offer Los Angeles put together.
Davis has averaged 23.7 points, 10.5 rebounds, 2.4 blocks, 2.1 assists and 1.4 steals in 466 regular season games. He averaged career highs in rebounds, assists and steals despite playing in just 56 games in 2018/19.
He is also a six-time NBA All-Star, three-time NBA blocks leader, and been selected to All-NBA First Team three times, the NBA All-Defensive Second Team twice, and the NBA All-Defensive First Team in 2018.
Kyle Lowry calls out fan who shoved him on sidelines: "Hopefully he never comes back to an NBA game"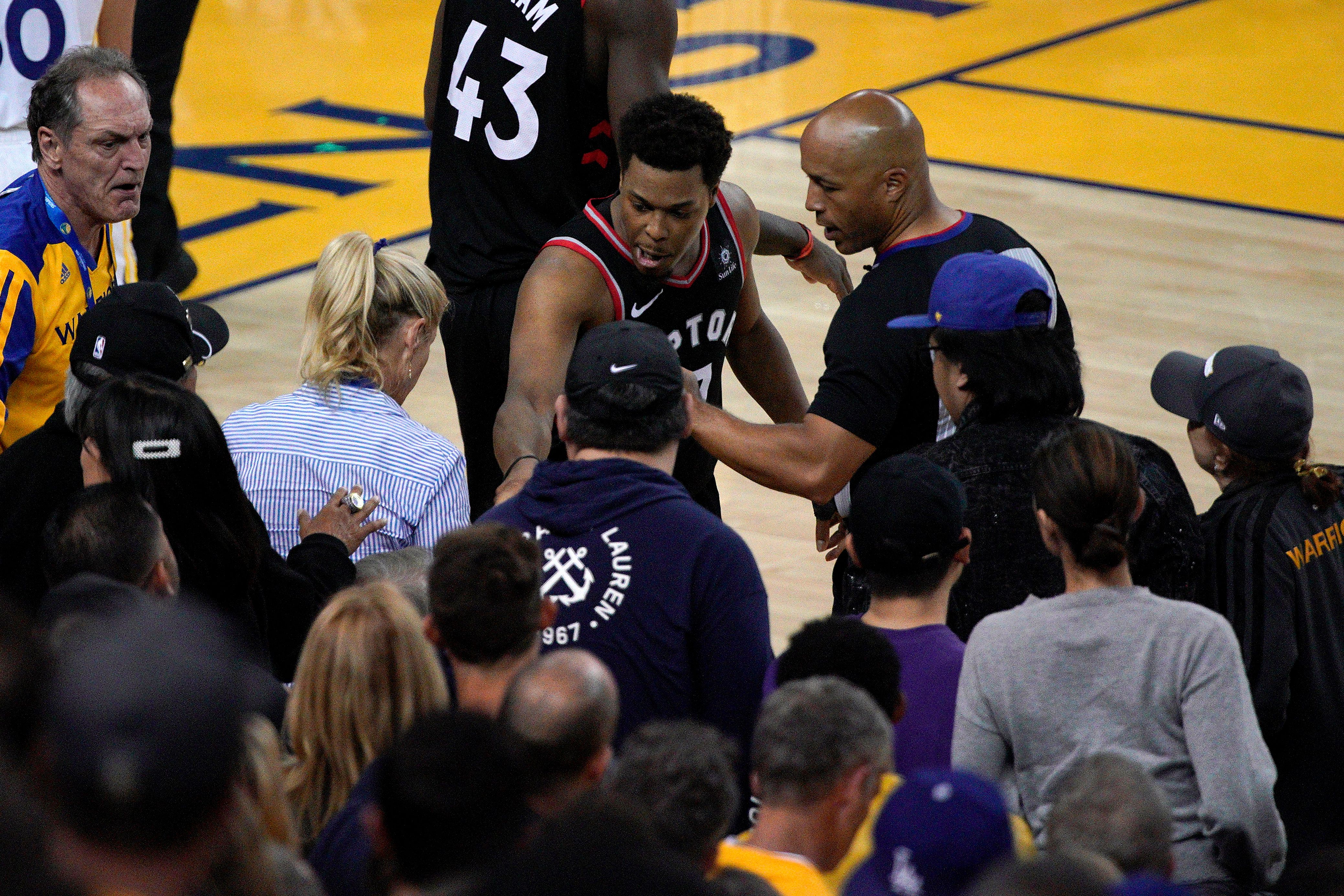 A somewhat overlooked part of the Toronto Raptors' 123-109 win over the Golden State Warriors in Game 3 of the NBA Finals was Kyle Lowry's encounter with an angry fan.
While diving for a loose ball at approximately the midway mark through the third quarter, the Raptors jumped into the crowd and collided with courtside fans. Shortly after, an unidentified man shoved him in disgust while he was trying to get back on the court. Lowry expressed his disgust with the referees, which led to the fan getting ejected following the TV timeout.
Lowry was asked about the incident after the game, and didn't hold back on his opinion of the fan's actions.
"He had no reason to touch me" said Lowry.
"He had no reason to reach over two seats and then say some vulgar language to me. There's no place for people like that in our league, and hopefully he never comes back to an NBA game."
One thing we know for sure is a new fan will be sitting in that seat when the Warriors host the Raptors again for Game 4 on Friday.