Ryan Callahan announces retirement after 13 NHL seasons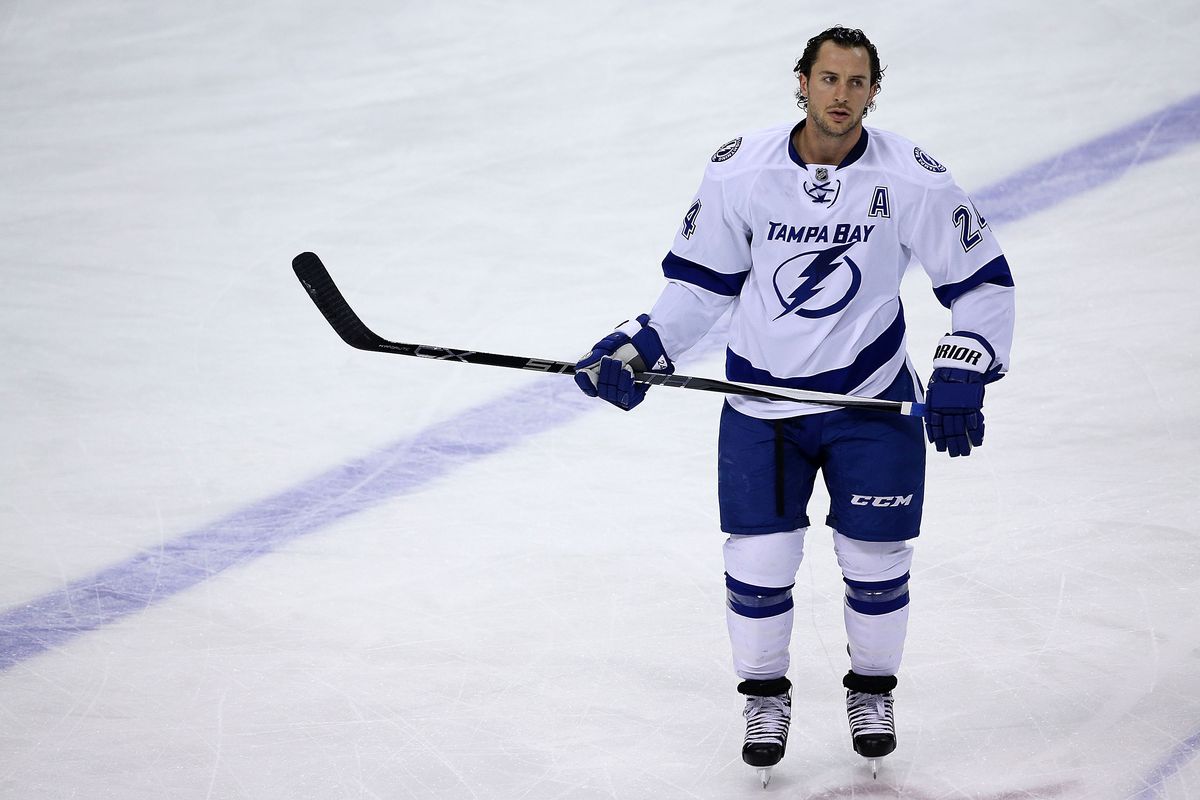 Veteran forward Ryan Callahan is calling it quits after a successful NHL career.
He announced on Wednesday his decision to retire from hockey.
"Let's make it official. I did not play last year due to a back injury but I am officially announcing my retirement from the NHL," wrote Callahan on his official Twitter account.
"Reflecting on my career, it's hard to wrap my head around how lucky and grateful I am for being able to live out my childhood dream for 13 amazing years."
The 35-year old, who was selected 127th overall in the 2004 NHL Draft, compiled 186 goals, 200 assists and a plus-5 rating over a span of 13 seasons and 757 career games split between the New York Rangers and Tampa Bay Lightning. He also posted 89 points in 121 postseason games.
Tom Wilson somehow avoids suspension for punching Pavel Buchnevich in back of head, body slamming Artemi Panarin head first onto ice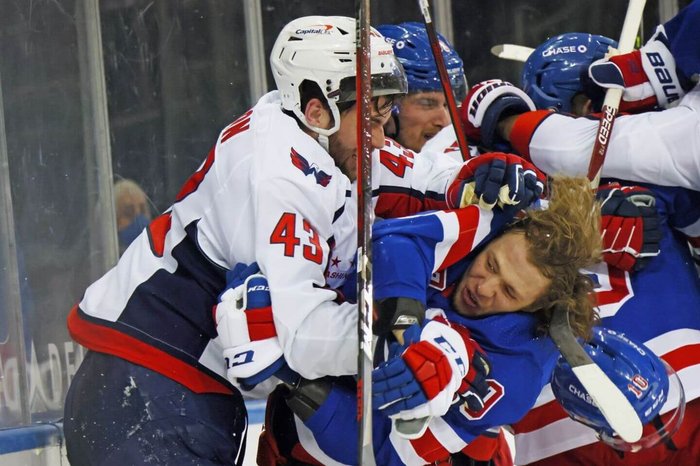 It's been a minute since Tom Wilson was in the headlines for doing something stupid on the ice. He isn't exactly the sharpest tool in the shed, so you knew it was only a matter of time before that changed. But somehow he has avoided suspension.
The NHL has fined the Washington Capitals forward $5,000 (the maximum allowed under the collective bargaining agreement) for punching Pavel Buchnevich in the back of the head and then body slam Artemi Panarin head first onto the ice with no helmet following a stoppage of play during the team's 6-3 win over the New York Rangers on Monday night. He was given a 10-minute game misconduct for his actions
Here's why we think this is so surprising: He has already been suspended five times throughout his career for dirty plays. He recently served a seven-game suspension for his hit on Boston Bruins defence man Brandon Carlo back in March. With his checkered past and the fact he is a 'repeat offender', it felt like a lengthy suspension was inevitable. But clearly the NHL didn't feel that way
Check out what he did below and see for yourself. Do you think the lack of punishment was justified?
Connor McDavid is not really concerned about reaching 100 points in shortened season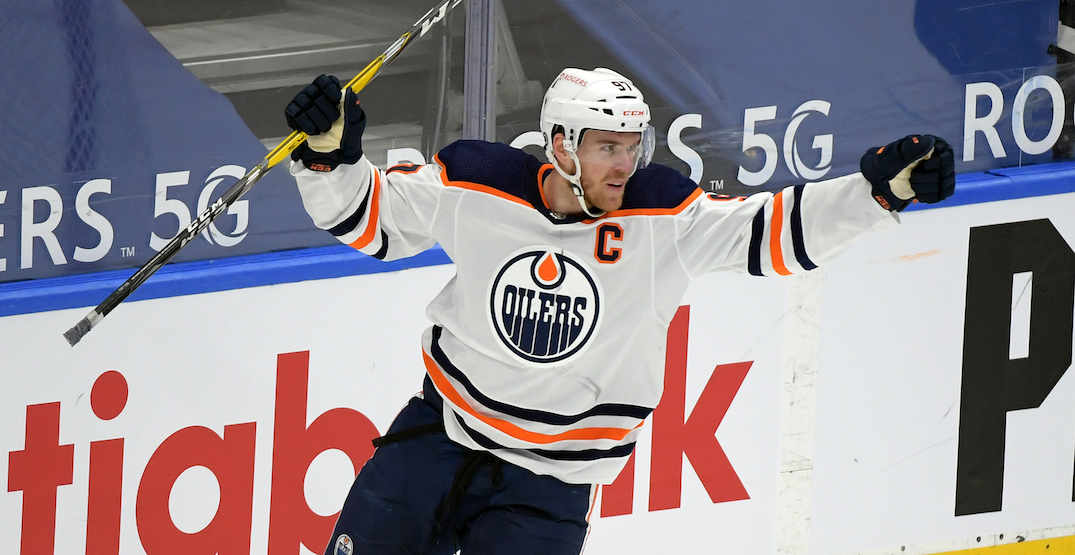 Edmonton Oilers superstar Connor McDavid has been on an absolute heater for the majority of the NHL's 56-game season, and is on the verge of doing something that hasn't been done since the mid-90's.
McDavid currently leads the league with 87 points through 49 games (29 goals and 58 assists). He needs just 13 points in the final seven games to become the first player since 1995/96 season to reach 100 points through 56 regular season games.
Pittsburgh Penguins teammates Mario Lemieux (116) and Jaromir Jagr (104) were the last to accomplish such a feat during that campaign. And with how the NHL game is played today, it felt like a near impossibility to see that ever happen again. But Connor McDavid is a once-in-a-generation type player. If anybody can do it, he will be the one.
He is currently averaged a whopping 1.78 points a game on the season, and will need to average 1.86 the rest of the way to reach the plateau. However, McDavid doesn't appear to be too phased about all the buzz surrounding his on-ice performance.
"Personally, I want to continue to play good hockey…Our group wants to continue to play good hockey. We want to go into the Playoffs on a good note." said McDavid.
"Personally, it's a number. Obviously, it would be kind of different to be able to do it in a shortened season. I'm not going to change anything. I'm just going to keep playing my game, and if I get there, I get there. And if not, whatever."
Five of the team's final seven games are against the lowly Vancouver Canucks, who recently came back from a long COVID-19 related break and will need nothing short of a miracle to make the playoffs. If McDavid has any shot at reaching 100 points, he will need to take full advantage of facing a team that doesn't have a lot left in the tank.
This horrible Leafs tattoo will leave you with more questions than answers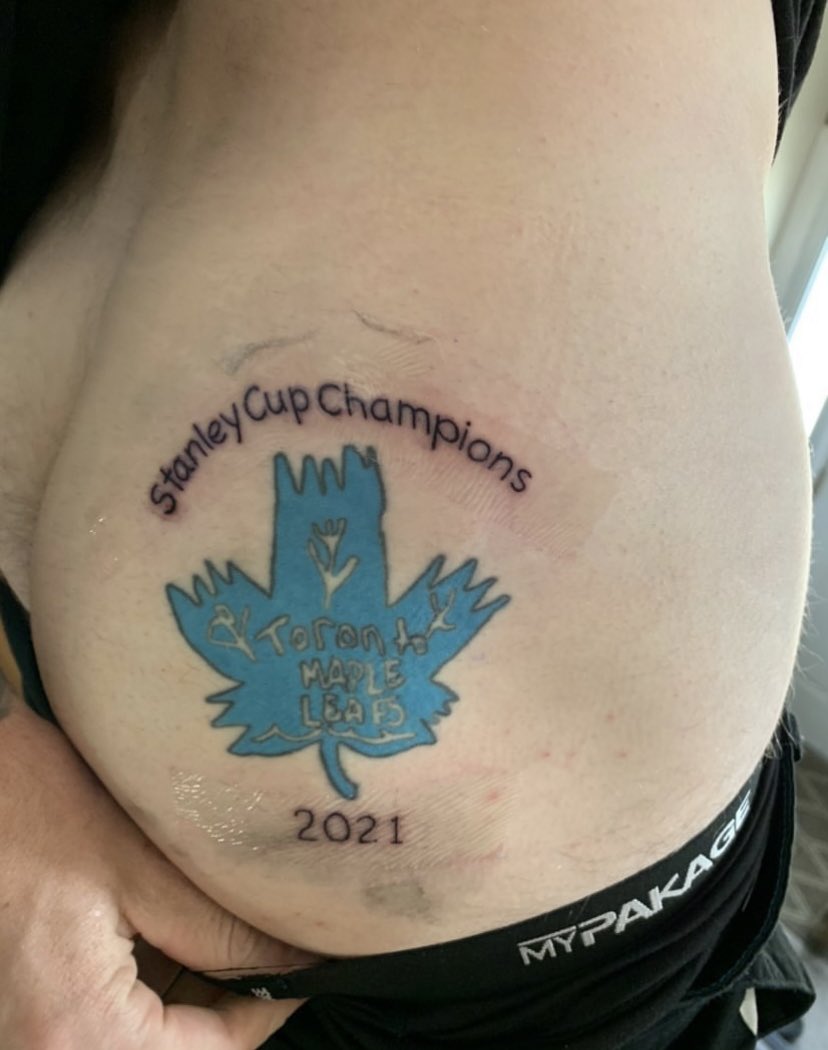 First of all: to have so much confidence in your favourite team's ability to win a championship that you permanently tattoo it onto your body is a bad decision by itself. But then to have the logo drawn out so poorly, and then making the decision to put it on one of your butt cheeks…
The level of stupidity is so mind blowing! It will legitimately make you worry for the future of this planet…