Phillies win the Bryce Harper sweepstakes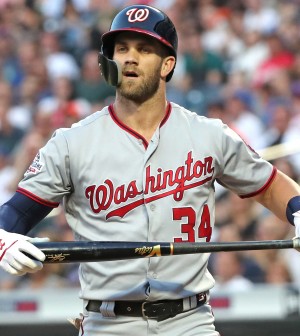 It finally happened! It may have taken about a week into Spring Training but Bryce Harper has finally chosen his free agent destination.
The Philadelphia Phillies announced Thursday that they have signed the free agent outfielder to a 13-year, $330 million contract with no opt outs. The deal has broken the MLB record for most guaranteed money in a player's contract.
According to Jeff Passan, the breakdown of his contract is as follows: he will make $10 million with a $20 million signing bonus in 2019, $26 million in 2020-2028, and $22 million in the final three years from 2029-2031.
So far in his career, the 26-year old has posted a .279 batting average, .900 OPS, 184 homers, and 521 RBI over a span of seven seasons with the Washington Nationals.
Aside from winning the NL Rookie of the Year in 2012, he is also a recipient of the NL MVP Award (2015), Silver Slugger Award (2015), NL Hank Aaron Award (2015), NL home run leader (2015), and most recently won the Home Run Derby at the 2018 MLB All-Star festivities.