Marcus Smart sticks up for teammate Kyrie Irving following series loss to Bucks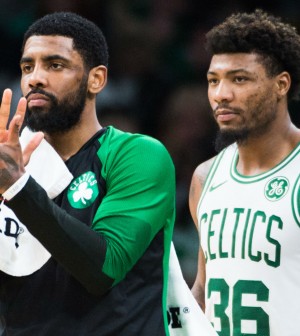 A lot of the blame for the Boston Celtics' lacklustre effort in their second round series against the Milwaukee is being directed towards none other than Kyrie Irving.
From demanding a trade from the Cleveland Cavaliers a few seasons ago so he can lead his own team, and basically guaranteeing that he and his Celtics teammates will take their game to another level come playoff time, Irving's was simply unable to put his money where his mouth is against the Bucks.
During the series, which lasted only five games, the All-Star averaged just 20.4 points, accumulated a plus/minus of -37, and shot just 30.1% from the floor (25 for 83) in the team's four losses.
While the media has been relentlessly attacking him, his Celtics teammate Marcus Smart has decided to take a stand against the hate and defend the criticism being directed towards him.
"We just couldn't find a way to do it. It's nobody's fault. It happens…It's four other guys out there, 13 other guys on the team. Coaches and everything. To just blame it on one guy is bullshit." said Smart.
He also called out those that claimed he messed up with the Celtics' chemistry.
"He was forced into a situation where it was business over the friendships. He had to come into a situation knowing this is a group of guys that had something going before [he came] here. 'How will I fit in?' He didn't want to disrupt that. That says a lot. This is Kyrie Irving we're talking about it, and he's worried about coming in and disrupting us. We took him in with full arms. We tried to understand. But like I said, we never really understood because we're not in his shoes. That's just a bulls- statement to say his leadership skills killed us."