Cardinals ink first overall pick Kyler Murray to rookie contract worth $35 million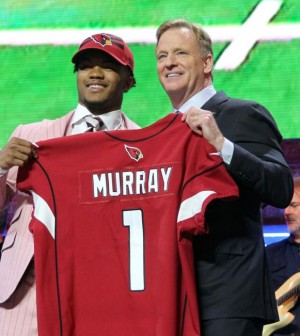 Kyler Murray will be under contract in time for the Arizona Cardinals' minicamp.
The team has confirmed that they have signed the 21-year old quarterback to a four-year, $35 million rookie deal that includes fifth year team option and a signing bonus that exceeds the $23 million mark.
Murray, who was selected first overall in the 2019 NFL Draft, is coming off his fourth NCAA Football season and third as quarterback of the Oklahoma Sooners. He posted 216 pass completions for 4,361 passing yards, 42 touchdowns and seven interceptions in what turned out to be a Heisman Trophy season in 2018/19.
While putting up great numbers in football, Murray – who was selected ninth overall selection by the Oakland Athletics in the 2018 MLB draft, also played outfield for the Sooners baseball team this past season. He ended up choosing football as his career path despite temptation from MLB.