Granderson, Cano, Rodriguez suspended for PEDs?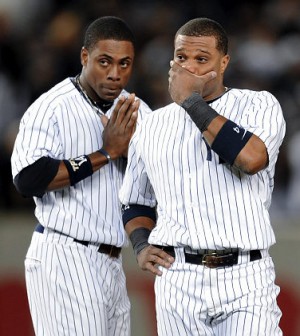 One of my regular guests on The York Report at NSS is Hayley Campbell, a super model and a sports journalist.  Not just an average sports journalist. Not just one who looks nice. But a sports journalist who has a nose for news.
Tuesday on The York Report, Hayley revealed a couple of newsworthy items that I've yet to see in the mainstream media. First, she disclosed information about two stars with the New York Yankees, suggesting that both Curtis Granderson and Robinson Cano will be suspended by Major League Baseball for 50 games or so because they have failed a performance enhancing drug test.
Hayley was quick to mention that her info came from a U.S. reporter who had broken the story last year on the then-San Francisco Giant outfielder, Melky Cabrera, who was suspended for failing his own PED test.
Man, if there's truth to Hayley's info, it will rock baseball and break down the Yankees to a point where they may not win 50 games this year. Remember, they already are without Granderson for 10 weeks with a broken forearm, Mark Teixeira is for at least eight weeks with a strained tendon in his right wrist, while Derek Jeter and Mariano Rivera are trying to rebound from injuries. None of these players are spring chickens.
Bad news for the Yankees. Good news for the rest of the AL East. Big news from Hayley Campbell. Keep watching NSS because you never know which of us will have the news first.