Yankees manager unconcerned about team's slow start: "We're always capable of going on a roll"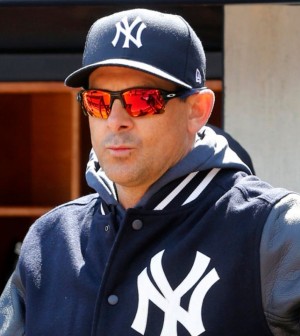 The New York Yankees have sent their fans into an early season panic after coming out of the gate with an underwhelming 3-4 record against low tier opponents like the Baltimore Orioles and Detroit Tigers.
To make matters worse, they have also been plagued by a plethora of injuries that has put their considerably large depth to the test.
With a day off heading into their weekend series against the Orioles at Oriole Park at Camden Yards, manager Aaron Boone isn't too concerned about the current state of the team. It's only a matter of time before they break out in a big way.
"We're always capable of going on a roll…I feel like that's a matter of time. That's a matter of us starting to click a little bit together and getting some guys hot collectively in the lineup and getting our pitchers settled in. Even banged up, I'm confident we can go on a run at any point." said Boone.
Lefty J.A Happ will take the mound on Saturday in hopes of bouncing back after allowing four earned runs and five hits over four innings in a loss on March 31st.