Yankees legend Mel Stottlemyre passes away at 77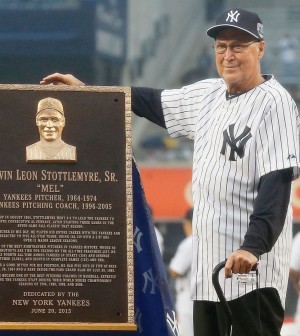 Sad news coming out the baseball world.
Sources have confirmed that former New York Yankees pitcher and longtime MLB coach Mel Stottlemyre has passed away from the effects of marrow cancer. He was 77 at the time of his death.
Stottlemyre enjoyed 11 seasons as a pitcher for the Yankees until announcing his retirement in 1974. He was a five-time MLB All-Star and posted a combined 164-139 record, 2.97 ERA, 1.22 WHIP, 1257 strikeouts, 152 complete games and 40 complete game shut outs over a span of 2661.1 innings pitched during his playing career.
Following his retirement, he had stints as pitching coach beginning with the New York Mets (1984-1993), Houston Astros (1994-1995), Yankees (1996-2005), and the Seattle Mariners (2008). He won five World Series titles as a coach, one with the Mets and four with the Yankees.