Yankees, J.A. Happ agree on two-year deal plus option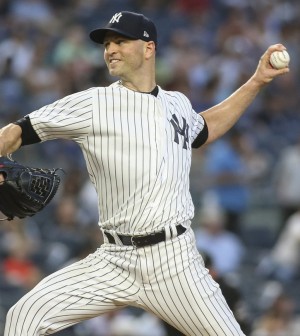 The New York Yankees have convinced J.A. Happ to rejoin the team after a successful stint in 2018.
The team has reportedly signed the veteran starter to a two-year, $34 million contract with a third year option that will be picked up if he manages to exceed a particular number of starts and/or innings pitched.
The 36-year old, who was acquired by the Yankees in a trade with the Toronto Blue Jays on July 26, 2018, posted a 7-0 record, 2.69 ERA, and a 1.05 WHIP in 11 starts and 63.2 innings pitched last season.
Several teams had reportedly expressed interest in signing Happ this offseason, but were reluctant to adding a third year onto his contract. Happ was willing to wait until a team gave him what he wanted before he picked a team to sign with.