WWE Monday Night RAW Recap – November 4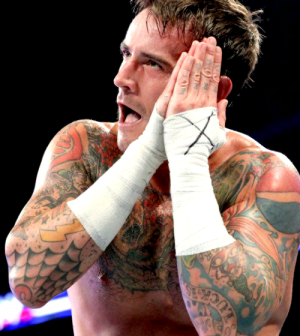 WWE Monday Night RAW this week presented an average episode once again with some good matches, great breakout performances from WWE superstars, and some rather questionable moments.
The show started off with a bang with CM Punk taking on one member of the Wyatt Family: Luke Harper. This was a great one-on-one match to kick off the show. Luke Harper was fantastic in this match, despite coming out on the losing end. He sold the match well, and displayed some good wrestling skills. After the CM Punk/Luke Harper match, we saw The Wyatt Family attack Punk, only to be rescued by Daniel Bryan. Based on the crowd's reaction towards the end, the WWE Universe are really into this feud between CM Punk/Daniel Bryan vs. The Wyatt Family. Another thing I would like to point out, we have seen Bray Wyatt in singles matches, and now Luke Harper and they have proven they can wrestle well. All we need to see is Eric Rowan have a few single matches for the WWE Universe to see.
Another WWE Superstar that had a breakout performance on WWE Monday Night RAW was Big E Langston. Big E Langston went against Randy Orton, and I must say Langston looked very strong in this match, despite coming out on the losing end to Randy Orton. Like Luke Harper in his match with CM Punk, Big E Langston showed great wrestling ability with his power moves on Randy Orton, and Orton sold all of Langston's moves very well to make Big E Langston a very strong competitor and major player in WWE. This match proves no doubt Big E Langston has a very bright future with WWE, and I can easily see him wearing championship gold very soon in WWE, and he may very well contend for a World Championship very soon too with the ability he showed too in his match with Randy Orton.
We got to see a rematch from Smackdown with John Cena teaming up with the WWE Tag Team Champions Cody Rhodes and Goldust against Damien Sandow and The Real Americans.  Great six-man tag team action presented with a lot of fast paced, back and forth action. What I liked the fact and found interesting the most was John Cena did not get the winning pinfall for his team in the match. It was Goldust who got the winning fall, and I thought that was great.  For weeks I have noticed in tag matches Goldust has with Cody, it's usually Cody who gets the winning decision. I'm happy that Goldust was involved in the winning decision in a team effort for a match. Based on the events of this match, I can see Cody Rhodes and Goldust taking on The Real Americans at Survivor Series for the WWE Tag Team Championships, and John Cena defending the World Heavyweight Championship at Survivor Series against Alberto Del Rio. Or both Alberto Del Rio and Damien Sandow in the Triple Threat Match since we are seeing Damien feuding a little bit with Cena in the past couple weeks since the night after WWE Hell In The Cell.
The closing of the show featured a segment with Triple H, Stephanie McMahon and The Big Show to make a settlement over Big Show's "lawsuit" against the WWE. It was a great build-up throughout the night that we saw clips that lead to the" lawsuit" and Big Shows "firing" and being "banned for life".  It started off with a great segment with Big Show, Stephanie McMahon and The Big Show discussing how they can settle the matter, even providing a little comedy in the segment with Big Show's insults to Stephanie and Triple H. To no one's surprise, The Big Show was reinstated and will get a shot that the WWE Championship against Randy Orton at Survivor Series. Afterword Triple H immediately made a 4-on-1-handicap match with Big Show vs Randy Orton and The Shield. Wasn't much of a match, until Kane appeared, and much to the shock of the WWE Universe, sported a new look of a suit and tie. I for one have no idea where this is going, and I don't know what the WWE Universe must feel with this new look Kane is showing. To me it doesn't look right.  The sad thing about this is we now have our answer that Kane's feud with the Wyatt Family is over. That to me is a real shame. I really felt Kane could have greatly benefited in CM Punk and Daniel Bryans feud with The Wyatt Family, and now we have to see him wear a suit and tie. I don't like Kane's new look but we will have to see where it goes from here.
The rest of the build for WWE Survivor Series should be interesting, and hopefully more exciting matches are announced in the days and weeks to come!