WWE Hell in a Cell Recap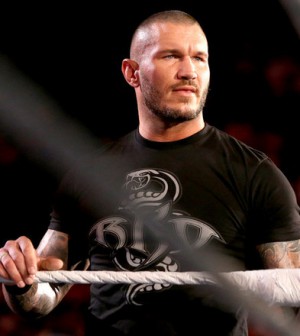 WWE Hell in the Cell is in the books, and it was a pretty decent Pay per View. There were some good matches, some not so great matches, and a lot of surprising results.
The triple threat tag team match between Cody Rhodes/Goldust, The Uso's, and The Shield was a great way to kick off the show. This was an excellent match, and this showed that the tag team division in WWE is getting a lot better now. Action was fast paced once again, and the spot of the night I'm sure everyone will agree on is when Cody Rhodes does the superplex on Seth Rollins on the top rope onto the arena floor, landing on the rest of the participants in the match. Great back and forth action in this match, and near the end of the match was great how all the tag team participants hit there major finishers on each other to try to be victorious. The end how Cody Rhodes hit's his finisher on Seth Rollins to pick up the win and allowing him and Goldust to retain the tag team titles was tremendous. Great way to start off the Pay per View with this match.
Then we had The Miz do an in ring segment calling out Bray Wyatt. Personally I am not a fan of in ring segments on a Pay Per View. Segments like this should be kept for an episode of RAW or Smackdown. Bray Wyatt was great at his promo he delivered as always, and I'm a huge fan of Bray Wyatt's promos.  Bray Wyatt's promos he does are very similar to how Jake "The Snake" Roberts were to do them when he was heel in 1991. The major highlight in his segment was the return of the Big Red Machine, Kane. It was great to see Kane back in WWE, and now with him back on WWE TV, the feud with him and the Wyatt Family will be something to watch and should be great.
The mixed tag team match between The Great Khali/Natalya vs Fandango /Summer Rae wasn't bad, even though it wasn't advertised for the Pay per View. The match wasn't the greatest, but it wasn't bad at the same time.  Summer Rae really was impressive in her ring debut here. Summer managed to execute some moves on Natalya that were quite good such as dropkick, and head scissors, and a lot of other moves. On top of all those great moves Summer did, she gets the winning pin fall for her team on Natalya. I'm interested to see more of Summer Rae in divas action on WWE TV. Based on this match, looks like perhaps WWE has high hopes for Summer Rae to stand out in the divas division.
Big E Langston vs Dean Ambrose for the United States Title was again nothing special, however this was a great opportunity for Big E Langston for the start of his singles career. As we know originally Langston was supposed to face Curtis Axel, unfortunately Axel was unable to compete due to injury. The cut Langston suffered under his eye looked pretty nasty.  These were one of the matches on the Pay Per View that wasn't so great. The finish were Dean Ambrose gets counted out , allowing Big E Langston to pick up the win was not what I would expect for a championship match on a Pay Per View. Despite the bad match, I hope more opportunity in WWE is in the works for Big E Langston.
CM Punk vs  Ryback/Paul Heyman inside Hell In A Cell was another not so good match, but I feel the match could have been a lot better.  It was funny how Paul Heyman entered the arena on a lift. That entrance kind of resembles how in WrestleMania III in 1987, and WrestleMania VI in 1990 how the wrestlers would make their way to the ring in those ring carts. Interesting how the action just starts off with Cm Punk and Ryback in the ring and Paul Heyman not even getting in the action with him standing on top of the cell. There were a couple good spots in the match with Ryback caught CM Punk and landed him crotch first on the edge of a table that was set up, which looked kind of painful, and with CM Punk elbowing Ryback threw a table off the top rope. The finish of the match was surprising to me. After Punk nailed Ryback with the kendo stick and hitting the GTS, I thought perhaps Ryback would kick out, to make Ryback look like more of a monster. But it was over in short order after that, which was surprising to me. But the major highlight of the end was when CM Punk got his hands on Heyman by assaulting him on top of the cell with the Kendo stick, and then hitting the GTS on Heyman. I think we were kind of expecting Punk to do more damage on Heyman, but it was great to see regardless Heyman get his in the end.
Los Matadores  vs The Real Americans was not a bad tag team match. Again I think it's great that more tag teams in the WWE are getting more air time on WWE programming. Antonio Cesaro continues to impress the WWE Universe with his strength on his swing move on one of the members of Los Matadores, JBL mentioned on commentary that it was 31 times that Cesaro was swinging his opponent around. Los Matadores get the win in this average match. I can easily see this feud with Los Matadores/Real Americans continuing on WWE TV.
Then we get to one of the main features of the night. The return of John Cena taking on Alberto Del Rio for the World Heavyweight Championship. John Cena and Alberto Del Rio have had great one on one matches in the past and felt this was going to be another great match. I love how the Michael Cole, Jerry Lawler, and JBL hype the fact wondering if Cena is coming back too soon from his injury, which made it look like Del Rio was going into this match as targeting Cena's elbow that he had surgery on, which is exactly what Del Rio did. Good action here between these two, and lots of near falls and near finishes in this match, and ultimately John Cena catches Alberto Del Rio with the Attitude Adjustment to win the World Heavyweight Championship once again. Great match between these two athletes as always. However I can't say I am surprised on the outcome of how the match ended with Cena winning the championship.
The Divas Championship match between Brie Bella and AJ Lee was another average match. Great effort from both ladies in this encounter. You had typical back and forth action here, and with Tamina trying to get involved with Brie Bella on the verge of defeating AJ for the title only to be stopped by Nikki Bella. The finish of Brie accidently giving the running knee to Nikki allowing AJ Lee to execute her Black Widow submission move for the win was rather a surprising result. I felt WWE was really pushing Brie Bella to win the Divas Championship over the last couple of weeks, and it did not occur. I found that odd.
We then get to the much hyped main event of the Pay Per View with Daniel Bryan taking on Randy Orton inside Hell In A Cell for the vacant WWE Championship (with Shawn Michaels as the guest referee). Again, the commentators hype the fact that Daniel Bryan has never been involved in a Hell In A Cell match, while his opponent Randy Orton has had plenty of experience in the structure. Great match between these two athletes, lots of good spots where Daniel Bryan does the suicide dive into Orton three times into the cage, and not to mention Daniel Bryan bringing in several chairs inside the ring to use for the match. Towards the end got interesting with Orton temporally having Daniel Bryan pinned and then confronting Shawn Michaels while he was being pre occupied with Triple H who was at ringside for the match. Once HHH entered the Cell after Shawn Michaels was accidently taken out, we knew things were about to get good and interesting. And that's exactly what happened with Daniel Bryan hitting his running knee on HHH.
The end was kind of surprising in one way, however in another way it was not with Shawn Michaels hitting the Sweet Chin Music on Daniel Bryan, allowing Randy Orton to pick up the win and the WWE Championship. I think the WWE Universe kind of expected Shawn Michaels to get physically involved in this match as the referee, however just not in the way we all expected it to happen. We all have to wonder if this means Shawn Michaels will be hanging around WWE TV for a little while to play a huge part of this storyline and outcome.  We will just have to wait and see what happens, and it should be rather interesting.
Overall a good Pay Per View presented by the WWE with good action and surprising.