Woods cruises to 2nd win of the year…Final scores all tours.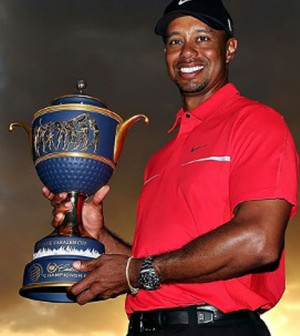 WORLD GOLF CHAMPIONSHIP – CADILLAC CHAMPIONSHIP
COURSE: TPC Blue Monster at Doral (7,334 yards, par 72).
PURSE: $8.75 million. Winner's share: $1,575,000.
NOTES: Round 4
pgatour.com   Tiger Woods had full control of his game and never let anyone get closer than three shots until he had locked up his 17th World Golf Championship title. With a conservative bogey that didn't matter on the final hole, he closed with a 1-under 71
Woods now has five wins in the last year, the most of anyone in the world, and he can return to No. 1 with a win at Bay Hill in two weeks.
He won by two shots over Steve Stricker, who might want to claim a share of this trophy.
Woods ran into Stricker on the putting green Wednesday afternoon, and in a 45-minute session, Stricker helped him with his posture over putts. Woods left feeling as good as he did at Torrey Pines, where he won by four shots. And it showed. Woods made 27 birdies this week, one short of his personal best on the PGA TOUR, and he took the fewest putts (100) over 72 holes in any TOUR event.
Rory McIlroy, the No. 1 player in the world, showed signs of recovering from his rough start to the season. He had a 65 and tied for eighth.
Graeme McDowell, who started the final round four shots behind, made a birdie on the opening hole, but never got any closer. McDowell had third place to himself until he went for the green on the 18th hole and found the water. He made double bogey, shot 72 and fell into a four-way tie for third that cost him $172,500.
Phil Mickelson (71), Sergio Garcia (69) and Adam Scott (64) also tied for third
live scoring click  http://www.worldgolfchampionships.com/cadillac-championship/leaderboard.html
PGA TOUR – PUERTO RICO OPEN
COURSE: Trump International Golf Club-Puerto Rico (7,506 yards, par 72).
PURSE: $3.5 million. Winner's share: $630,000.
TELEVISION: Golf Channel (Thursday, 6:30-8:30 p.m.; Friday, 1:30-3:30 a.m., 6:30-8:30 p.m.; Saturday, 1:30-3:30 a.m., 6:30-9:30 p.m.; Sunday, 3-5 a.m., 7:30-10:30 p.m.; Monday, 3-5 a.m.).
CANADIAN CONTENT: Stephen Ames MC, Graham DeLaet T18 -13 70 68 67 70, Brad Fritsch T39 -10 67 70 71 70, David Hearn T8 -16 68 67 71 66
NOTES Round 4
pgatour..com  Scott Brown went from a one-shot deficit to a one-shot victory Sunday in the Puerto Rico Open when he made a 4-foot birdie putt on the par-5 18th hole to beat Fabian Gomez and capture his first PGA TOUR title.
Brown picked up 300 FedExCup points with his victory, a two-year exemption on TOUR and spots in THE PLAYERS Championships and the PGA Championship
Gomez tied for second with 19-year-old Jordan Spieth, who was playing on a sponsor exemption and now is exempt into the Tampa Bay Championship. Spieth shot a 67.
Justin Bolli (66) and Brian Stuard (68) were another shot behind.
live scoring click  http://www.pgatour.com/tournaments/puerto-rico-open-presented-by-seepuertorico-com/leaderboard.html
WEB.COM TOUR – CHILE CLASSIC
COURSE: Prince of Wales Country Club (6,903 yards, par 72).
PURSE: $650,000. Winner's share: $117,000.
TELEVISION: None.
CANADIAN CONTENT: Adam Hadwin MC 70 74, Richard Scott T26 -12 69 67 68 72, Roger Sloan MC 71 75, Ryan Yip MC 81 69, Matt Hill  T52 -8 69 69 72 70
NOTES: Round 4
Kevin Kisner fired a 4-under-par 68 Sunday to win the Chile Classic and earn his second career title on the Web.com Tour. Kisner, one of three 54-hole co-leaders, played the final five holes at the Prince of Wales Country Club one-over par but his 21-under 267 score was enough to edge out Brice Garnett (68) and Edward Loar (69) by one stroke for the trophy.
Guy Boros (65) and hometown favorite Benjamin Alvarado (71) tied for fourth at 18-under. Five others shared sixth place at minus-17 but the weeklong birdie fest in Santiago belonged to Kisner, who figured he might be in the mix despite playing poorly in Panama and Colombia.
live scoring click   http://www.pgatour.com/webcom/leaderboard.html
ASIAN TOUR – SAIL-SBI Open
COURSE: Delhi Golf Club, New Delhi (6,963 yards, par 72)
PURSE: $300,000
CANADIAN CONTENT: Richard T. Lee  ( Retired)
Round 4
asiantour.com  India's Anirban Lahiri successfully defended his title at the SAIL-SBI Open presented by Incredible India, Ministry of Tourism following a thrilling play-off victory over young countryman Rashid Khan on Saturday.
The 25-year-old Lahiri birdied the 18th hole from 10 feet in regulation play to force extra-time and then claimed his third Asian Tour victory with a four-foot birdie conversion on the same hole in front of a large gallery at the Delhi Golf Club.
Khan, 22, gave himself a great chance of a maiden title on the region's premier Tour with a superb final round of six-under-par 66 which included a closing birdie but he could not prevent a dominant Lahiri, who signed off with a 68, from grabbing the winner's cheque of US$54,000.
Overnight leader Siddikur of Bangladesh closed with a disappointing 73 to finish third, four shots behind the play off duo while Shiv Kapur of India settled for fourth place after a 70. Thailand's Pawin Ingkhapradit and Australian rookie Matthew Stieger ended in tied fifth place.
Live scoring click   http://www.asiantour.com/result.aspx?rnd_caption=Round 3 Results&rnd_event=20121213995045376876
eGOLF PROFESSIONAL TOUR – IRISH CREEK CLASSIC
COURSE: The Club at Irish Creek, Kannapolis, N.C. (7,099 yards, par 71)
CANADIAN CONTENT: Daniel Bowling MC  Cam Burke T14 -1 69 71 73 70 Robbie Greenwell MC Mackenzie Hughes T19 +1 72 70 71 72
NOTES: Round 4
After a week filled with multiple frost delays and colder-than-normal temperatures, Ryan Nelson of Charleston, SC persevered to post rounds of 64-72-68-66—270 (14-under) en route to winning the eGolf Tour's Irish Creek Classic, as well as the event's $17,000 first-place prize.
The story of the week at Irish Creek, at least for the first three rounds, was Mother Nature. Strong winds and bitter cold temperatures on day one set in motion a stop-and-start schedule for the week, which tournament officials finally caught up on for Saturday's final round.
Live scoring click   http://tarheel.bluegolf.com/bluegolf/tarheel13/event/tarheel133/contest/1/leaderboard.htm
ALL-AMERICAN PROFESSIONAL GOLF TOUR – TOUR CHAMPIONSHIP
COURSE: Alta Mesa Country Club, Mesa, AZ
PURSE: $50,000
CANADIAN CONTENT: Cory Renfrew MC, Kent Eger MC
NOTES: 32 man matchplay format features the top 25 members from the money list with the next 7 spots filled by an 18-Hole qualifier. …Renfrew is seeded ninth while Eger is seeded 12th and both have been eliminated
Live scoring click here http://www.all-americantour.com/leagues/golf_leaderboard.cfm?clientid=4367&leagueid=14737&seasonnum=2012
CACTUS TOUR – EVENT No. 5
COURSE: Wildfire Golf Club at Desert Ridge, Phoenix, AZ
CANADIAN CONTENT: Alena Sharp T17 68 78 71, Jessica Wallace 22  74 72 74, Melissa Mabanta T46 82 77 77, Jessica Payne(a) 56  85 86 82
NOTES:   Irene Cho 71 68 62 201 beat Margarita Ramo 67 66 68 201 in a playoff.
Live scoring click   http://www.thecactustour.com/2013results.html
SUNCOAST LADIES SERIES
COURSE: West Orange Country Club, Winter Garden, FL
CANADIAN CONTENT: Stephanie Sherlock 5th 75 73 76 +11 , Brogan McKinnon (a) 20th 76 79 80 +22,
Catherine O'Donnell of Ponte Verde Florida 73 74 72 +6 won in tough conditions
Live scoring click  http://www.suncoastseries.com/2013%20TOUR/0.Tournaments/0.7WOCC/RESULTS.pdf
THE LEGENDS TOUR – FRY'S DESERT GOLF CLASSIC
COURSE: Vhttp://www.thelegendstour.com/tournaments_2013_Frys_Tucson.htmentana Canyon Golf & Racquet Club, Tucson, Ariz
CANADIAN CONTENT: Gail Graham, Dawn Coe-Jones, Lori Kane
Final
| | | | | |
| --- | --- | --- | --- | --- |
| 1 | Jane  Crafter-Betsy King, | -8 | 18 | -8 |
| T2 | Amy  Alcott-Danielle Ammaccapane, | -7 | 18 | -7 |
| T2 | Lorie  Kane-Sherri Steinhauer, | -7 | 18 | -7 |
| T4 | Kris  Tschetter-Cathy Johnston-Forbes, | -6 | 18 | -6 |
| T4 | Pat  Bradley-Patty Sheehan, | -6 | 18 | -6 |
| T6 | Allison  Finney-Heather Drew, | -5 | 18 | -5 |
| T6 | Jan  Stephenson-Cindy Rarick, | -5 | 18 | -5 |
| T6 | Laurie  Rinker-Juli Inkster, | -5 | 18 | -5 |
| T9 | Barb  Moxness-Tina Tombs, | -4 | 18 | -4 |
| T9 | Jenny  Lidback-Barb Mucha, | -4 | 18 | -4 |
| T9 | Liselotte  Neumann-Jean Bartholomew, | -4 | 18 | -4 |
| T9 | Terri-Jo  Myers-Michelle Estill, | -4 | 18 | -4 |
| T13 | Beth  Daniel-Helen Alfredsson, | -3 | 18 | -3 |
| T13 | Christa  Johnson-Hollis Stacy, | -3 | 18 | -3 |
| T13 | Cindy  Figg-Currier-Sherri Turner, | -3 | 18 | -3 |
| T13 | Donna  Caponi-Patti Rizzo, | -3 | 18 | -3 |
| T13 | Jane  Blalock-Alicia Dibos, | -3 | 18 | -3 |
| T18 | Rosie  Jones-Val Skinner, | -2 | 18 | -2 |
| T18 | Shelley  Hamlin-Anne Marie Palli, | -2 | 18 | -2 |
| T20 | Cindy  Miller-Laura Shanahan Rowe, | -1 | 18 | -1 |
| T20 | Dawn  Coe-Jones-Nancy Scranton, | -1 | 18 | -1 |
| T20 | JoAnne  Carner-Lori West, | -1 | 18 | -1 |
| 23 | Gail  Graham-Ellie Gibson, | E | 18 | E |
| 24 | Jackie  Bertsch-Alice Miller, | +2 | 18 | +2 |