Warriors guard Stephen Curry out at least two weeks with ankle injury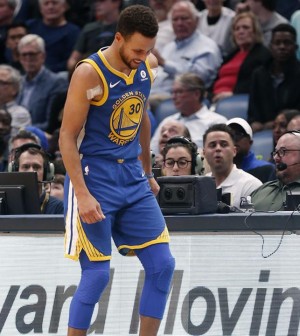 The Golden State Warriors are going to have to get by without Stephen Curry for some time.
The team announced that the two-time MVP will be sidelined for a minimum of two weeks due to a sprained right ankle.
The 29-year old sustained the injury while trying to intercept a pass to E'Twaun Moore with about a minute left in the fourth quarter of the team's 125-115 win over the New Orleans Pelicans on Monday.
"It was a dumb play because I tried to go for a steal," said Curry after the game.
"And then obviously it was just a bang-bang [play]. I got caught on E'Twaun's shoe as I went by him and couldn't catch myself. So obviously it hurt, but wanted to kind of get back here, get ice on it and get the rehab process started as soon as possible."
Curry is averaging 26.3 points, 6.6 assists and 5.1 rebounds in 23 games this season.