Voynov suspended all of next season (including playoffs) due to unacceptable off-ice behaviour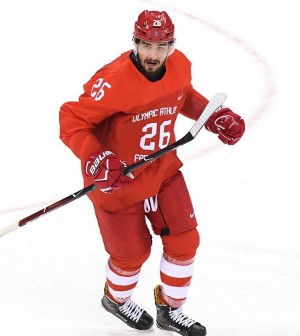 Former Los Angeles Kings defenceman Slava Voynov is going to have to wait at least another year before attempting another NHL return.
The NHL announced Tuesday that they have suspended the 29-year old Russian for the entire 2019/20 regular season and playoffs due to unacceptable off-ice conduct stemming from a domestic violence incident in 2014 where he allegedly punching, kicking, choking his wife, and pushing her into a flat-screen television at their home.
"I have determined that player Slava Voynov engaged in acts of domestic violence directed at his wife" said NHL Commissioner Gary Bettman.
"Today's ruling, while tailored to the specific facts of this case and the individuals involved, is necessary and consistent with the NHL's strongly-held policy that it cannot and will not tolerate this and similar types of conduct, particularly as directed at a spouse, domestic partner or family member."
Voynov, who amassed 18 goals and 63 assists in 190 NHL games, has not played in the league in nearly five years. He won two Stanley Cups in his three-plus seasons with the franchise.