Vince Carter officially announces he will return for a 22nd NBA season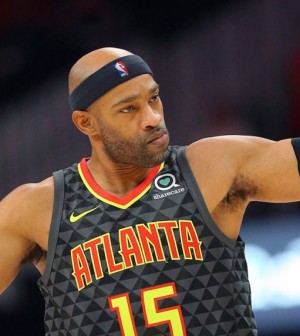 Vinsanity will be entering another decade.
Vince Carter has officially announced that he will return for a 22nd NBA season in 2019/20.
"Yeah, I'm coming back" said Carter during his recent podcast with Kent Bazemore and Annie Finberg on the Ringer Podcast Network.
The significance of that? Well he will break the NBA record for most seasons played, and become the first player to have played in four different decades.
Carter began his career with the Toronto Raptors during the 1998/99 season, and has averaged 17.3 points, 4.4 rebounds and 3.2 assists split between eight different teams in 1466 combined regular season games through his illustrious career.
He excelled this past season with the Atlanta Hawks, averaging his highest point total since 2013/14. He also became the oldest player in NBA history to record at least 20 points in a game after sinking seven three-pointers for 21 points in the team's 114-113 loss to the Miami Heat on March 4.