VIDEO: Charles Oakley ejected and arrested from MSG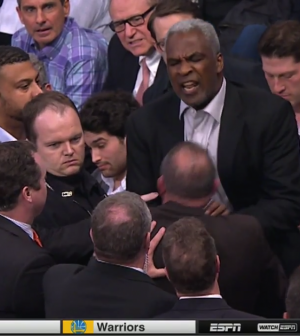 Former New York Knicks star Charles Oakley was ejected and arrested on Wednesday night at MSG after shoving security officials.
Oakley was shouting about MSG chairman James Dolan but the cause of the outrage has not yet been reported.
https://twitter.com/SInow/status/829501002764124161
The Knicks released the following statement:
Charles Oakley came to the game tonight and behaved in a highly inappropriate and completely abusive manner. He has been ejected and is currently being arrested by the New York City Police Department. He was a great Knick and we hope he gets some help soon.
The 53-year-old Oakley is reportedly being charged with three counts of assault and criminal trespassing.