USA World Junior Champions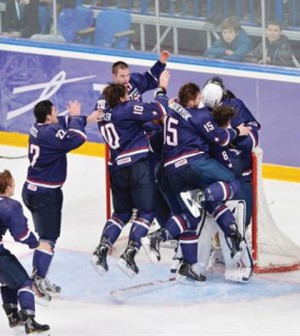 This game went right down to the last minute when Sweden trailing 2-1 pulled their goalie frantically trying for the equalizer, but gave up possession in the US end, leaving the States with a breakaway on the empty net, final score USA 3 Sweden 1.
GAME SUMMARY
Filip Sandberg scored a powerplay goal in the first minute of the second period to put Sweden ahead 1-0.
Rocco Grimaldi tied the score from a bad angle midway through the period. Swedish goalie Niklas Lundstrom was hugging the post and will want this one back as somehow it got over his blocker then hit his back before trickling into the net to the surprise of Grimaldi, to make it 1-1.
Minutes later, Grimaldi got another break as  he deflected a Jacob Trouba shot past Lundstrom for a 2-1 American advantage. Flukey or not, that was the way it stayed throughout the third when Vince Trocheck's empty-netter clinched it for the Americans.
American goaltender John Gibson was solid again. He was named tournament MVP, Best Goaltender and headlined the All-Star Team.
Sweden won the gold medal in 2012, but has never won back-to-back golds. The Swedes have a 12-game winless streak against the U.S. in this tournament. They have not beaten the Americans since 1996, with 11 losses and one tie in 11 match-ups
Earlier in the day Canada lost a thriller to Russia 6-5 in OT to finish 4th. Entering this year, Canada had medalled at a record 14 consecutive IIHF World Junior Championships, including gold medal performances in 2005, 2006, 2007, 2008 and 2009, silver medals in 1999, 2002, 2003, 2004, 2010 and 2011 and bronze medals in 2000, 2001 and 2012.
BryanA