Ureña's heroics give Blue Jays their fourth straight win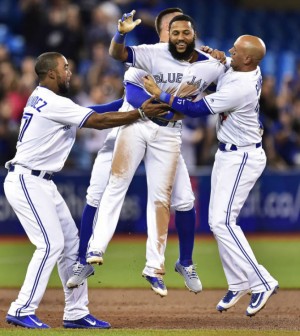 It hasn't been a fun time for Blue Jays fans this season, but fortunately for the Toronto faithful, there is plenty to be optimistic about heading into next season.
Case in point: Blue Jays rookie infielder and September call-up Richard Ureña.
Despite struggling with consistency in the minors, the 21-year old Dominican Republic native has been nothing short of spectacular since making his MLB debut earlier this month.
In nine games, Ureña has hit a respectable .324 to go along with a .395 on-base percentage, .865 OPS, one homer and 3 RBI. He particularly impressed in yesterday's come-from-behind win against the Baltimore Orioles.
With much of the team struggling to get on-base for the majority of the night, Ureña managed to go 3 for 5 at the plate, including a walk-off single with one out in the bottom of the 9th against one of the best closers in the game. With the way this lost season has been going, his late game heroics was a breath of fresh air for the 29,005 in attendance at Rogers Centre.
"I feel a lot of emotions, you dream about that," said Urena through a translator.
"You just come out here and try to do your job and it's just a plus when you get a chance to win a game."
Ureña has now reached base safely in eight of his nine games. If he keeps it up for the remainder of the month, it would be impossible to ignore him as a potential infield option to make the opening day roster in 2018.
"I just think he's relaxed and he's confident — he looks like he belongs," said Blue Jays manager John Gibbons.
"There's really no panic, he just looks like he's been playing here for a while."