UFC lightweight champion Khabib Nurmagomedov hopes to fight three times in next 11 months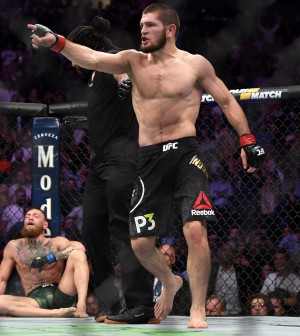 UFC lightweight champion Khabib Nurmagomedov is itching to get back in the octagon and wants to fight as much as possible in the next year.
Khabib's agent Ali Abdelaziz told ESPN that his client hopes to participate in as many as three bouts within the next 11 months.
"He gave me very specific instructions. He said he wants to fight Sept. 7, and again in December. And if Georges St-Pierre can figure things out with the UFC by April, that's the deal. He would like that fight in April." said Abdelaziz.
"The lightweight division has a lot of contenders and we need to keep the division going…Khabib has done this before. He fought Edson Barboza, Al Iaquinta, and Conor McGregor in less than one year. If it can be Georges in April, he would love that fight. If not, it can be any contender."
The topic of a potential rematch with Conor McGregor came up, and Khabib's inner circle did not mince words. They believe McGregor doesn't deserve a rematch, and the controversial Irishman will have to earn his way back to respectability before it is even considered.
"To be honest, Conor is going to have to go out there and fight somebody like Justin Gaethje, Tony Ferguson or Cowboy Donald Cerrone. He's not a worthy enough opponent right now. That's the feeling from all of us, as a team."
Nurmagomedov is undefeated (11-0) since making his UFC debut back in January 2012.