Tyson Fury could be stripped of titles after positive cocaine test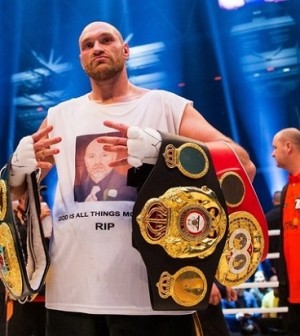 World heavyweight boxing champion Tyson Fury might be stripped of his WBA, WBO, IBO, Ring magazine, and lineal heavyweight titles after testing positive for cocaine in a recent drug test.
The 28-year old Manchester, England native won all of those heavyweight titles after ending Wladimir Klitschko's 11-year winning streak in November 2015.
Undefeated at 25-0, Fury was slated to have a re-match with Klitschko on October 29, but recently removed himself from the fight on September 23rd due to being "medically unfit". According to reports, the results of his positive drug test were given to him on September 22nd, the day before he pulled out of the fight.
Voluntary Anti-Doping Association (VADA) president Dr. Margaret Goodman reportedly sent the following letter to both Fury and Klitschko's representatives, along with several important professional boxing governing bodies:
"This letter is to advise you that the 'A' sample urine specimen number 4006253 collected from Tyson Fury on September 22, 2016 in Lancaster, England through his participation in the Voluntary Anti-Doping Association (VADA) program has been analyzed for anabolic agents, diuretics, beta-2 agonists, stimulants and drugs of abuse.

"The results of the analysis are as follows: Adverse. Urine specimen contains benzoylecgonine."

"Mr. Fury has the right to promptly request analysis of the 'B' sample at his expense."
More to come.