Tom Brady threw for four touchdowns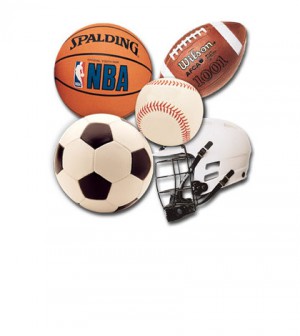 1. NFL   In a game that only mattered for playoff seeding, Tom Brady threw for four touchdowns and New England routed Houston 42-14 for the Patriots' seventh straight victory. The Patriots (10-3), who already own the AFC East title, moved one game behind the Texans (11-2) for the conference's top seed and snapped Houston's six-game winning streak.
Brady, whose his wife, Gisele, gave birth to Vivian Lake last Wednesday, ended up 21/35 and 296 yards and he led his team to touchdowns on their first 3 drives, 21-0 and Houston never recovered
Houston, still in the seeding drivers seat at 9-4 ends the regular season with back to back games with surging Indianapolis, while the Pats have a big game against San Fran next Sunday night.
2. NBA   More bad news for the Toronto Raptors who  lost forward Andrea Bargnani to a right elbow injury and guard Kyle Lowry to a right shoulder problem during the game
As for the game itself LaMarcus Aldridge had 30 points and 12 rebounds to lead the Portland Trail Blazers to a 92-74 victory
Both teams were banged up. Portland started the game withhout to regulars, the Raps without Linas Kleiza, then they were hurt late in the first quarter when Bargnani went to the locker room after falling awkwardly on a dunk, Lowry did not play in the second half after he hurt his right shoulder in a fall.
Finally the Raptors lost Amir Johnson when he was ejected with 5:01 left in the third quarter. He had words with referee David Jones while trying to take the ball from him following a Portland free throw. After Johnson was ejected, he threw his mouthpiece at Jones and fellow players had to restrain him before he was escorted from the floor.
3.  Gary Neal scored a career-best 29 points and Tony Parker had 27 points, 12 rebounds and 12 assists to lead the Spurs over the Houston Rockets 134-126 in overtime.
Jeremy Lin had his best game since joining the Rockets, scoring a career high-tying 38 points with leading scorer James Harden sidelined by a sprained right ankle
4.  Last night the Miami Heat played the way thheir fans expect them to. Lebron James scored 27 points, Dwayne Wade had 26 and the Heat pulled away in the second half to beat the Atlanta Hawks 101-92, improving to 10-1 at home this season.
James (10 for 16) and Wade (11 for 13, the best single-game shooting percentage of his career) made 21 of 29 shots for Miami, which shot 58 per cent as a team. Chris Bosh had 14 points and 10 rebounds and Norris Cole made all four of his shots to score 10 for the Heat, who handed the Hawks just their second loss in 11 games
For all results, boxscores click  www.nba.com
5. NHL NEWS  As we reported yesterday, the earliest a shortened NHL season will start is Dec. 31. The league cancelled another 104 regular-season games bringing the total number wiped away by the lockout to 526. According to sources on both sides, the NHL and the Players' Association are slated to resume talks on Wednesday.
The biggest question now is whether the latest NHL lockout will result in a shortened season like 1994-95 or a scorched season like 2004-05.
6.  Meanwhile Roman Hamrlik was talking yesterday. I've been in the league for 20 years and faced three lockouts," Hamrlik said. "There's only 14 other players in the league that are facing their third career lockout. I believe I've earned the right to say what I think."
On Nite Cap with Josh Rimer he said that he would support a secret players vote on the owners last offer.
On Sunday Don Cherry also wrote that the players should take a secret vote to make sure the majority doesn't really want to sign the latest offer from the owners.
7. LOU MARSH AWARD    Women's soccer sensation Christine Sinclair was named the winner of the 2012 Lou Marsh Award
The 29-year-old Sinclair led Canada to bronze at the London Olympics in spectacular fashion, scoring an Olympic-record six goals to win the Golden Boot. She recorded a hat trick in a 4-3 extra-time semifinal loss to the United States
Other finalists for the Marsh award were speedskater Christine Nesbitt, trampolinist and Olympic gold medallist Rosie MacLennan, figure skater Patrick Chan, cyclist Ryder Hesjedal and Calgary Stampeders running back Jon Cornish.
8.  CFL   Former Eskimos wide receiver Ed Hervey was confirmed Monday as the team's general manager, a move that wasn't a major surprise.
The two-time Grey Cup champion with the Eskimos had been their head scout for four years and was considered one of the two front-runners for the position, along with head coach Kavis Reed.
Hervey replaces Eric Tillman who was fired after two years on Nov. 3, a week before the Eskimos lost to the Toronto Argonauts in the CFL East semifinal.
9.  BLUE JAYS  The Toronto Blue Jays have named Pat Hentgen as their bullpen coach, bringing the Cy Young winner back into the team's coaching ranks.
Hentgen previously served as Toronto's bullpen coach in 2011. He has also spent eight of the last nine seasons as a team ambassador and special assistant to the organization.
Hentgen played 10 of his 14 big-league seasons in Toronto. In 1996, he posted a 20-10 record and 3.22 earned-run average to become the first Blue Jay to win the Cy Young Award.
10  Former NFL commissioner Paul Tagliabue will rule this afternoon on the latest round of player appeals in the NFL's bounty probe, and any potential punishment will be delayed by a week.
The delay is designed to give a federal judge in New Orleans the opportunity to rule on pending motions to throw out the suspensions and remove Tagliabue as the appointed arbitrator for the player appeals to the league
Current and former Saints players and coaches have acknowledged the existence of a performance pool that rewarded key defensive plays including hard, legal tackles, but have denied organizing or participating in a program designed to intentionally injure opponents
BryanA