Trump Makes an Appearance at NCAA Championship
By
Admin
on January 9, 2018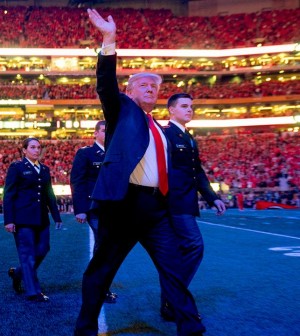 After years, and now months of bashing the NFL as a result of the "Take A Knee" movement which took over the sports landscape last year, Donald Trump's interest in football has finally seen a resurgence. Yesterday's monumental NCAA championship game which saw the Georgia Bulldogs face off against the Alabama Crimson Tide, also saw a certain president make a public appearance at the opening of the game.
Donald Trump showed up on the field as he stood and sung the national anthem with his hand over his heart. Following the appearance, the internet exploded with speculation that he didn't actually know the right words as he stood with the band and choir for the song. For the remainder of the first half of the game, Trump watched from a private box and left during halftime. Notably, Trump critic and rapper Kendrick Lamar, performed during the half time show, after Trump had conveniently left the building. Trump's appearance was naturally met with cheers and boos alike, with many indecisive as to decide which sounds from the crowd was more predominant.
It's not difficult to see that this manoeuvre was definitely a slight at the NFL and its players' supposed "lack of respect" to the flag. During this game in particular, both teams were in the locker room during the anthem, contrary to last year's and it's uncertain whether or not Trump will comment on that. And although there was a mixed reaction to his appearance this time, It's only a matter of time before Trump makes more unannounced appearances to a crowd of non-supporters and actually gets booed out of the stadium.