Travis Dermott to undergo shoulder surgery; out six months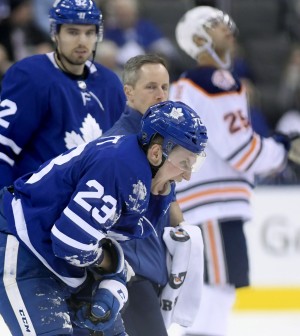 It's a bad day to be a Toronto Maple Leafs fan.
Just hours after learning that John Tavares sustained an injury while training for the 2019 IIHF Worlds, they announced that defenceman Travis Dermott is scheduled to undergo shoulder shoulder on Friday and will be sidelined approximately six months.
The recovery time means he will essentially miss at least the first month of the 2019/2020 season at the bare minimum.
The 22-year old, who recently finished his first full season with the franchise, posted four goals, 13 assists and a minus-5 rating in 64 games this past season.
He initially sustained the injury when he got hit into the boards by Brad Malone during the team's 6-2 victory over the Edmonton Oilers on February 27. He returned towards the end of 2018/19, and participated in their first round loss to the Boston Bruins.