Toronto FC's Jozy Altidore apologizes for accidentally snubbing Leo Komarov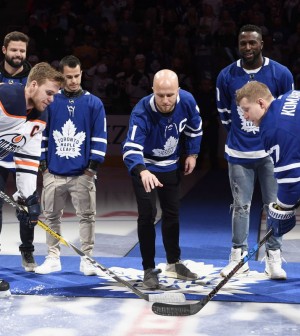 In case you didn't watch the Toronto Maple Leafs' 1-0 win over the Edmonton Oilers on Saturday, one of the things you missed was key the Leafs honouring Toronto FC for becoming the first Canadian team to win the MLS Cup. After a video tribute played for fans at the ACC, Key members of the team got to walk out to centre ice to receive some love from the Toronto faithful, and assist in a ceremonial puck drop with Oilers star Connor McDavid and Leafs forward Leo Komarov.
After Toronto FC Michael Bradley dropped the puck, both Komarov and McDavid went to shake the hands with each of the players. The problem that people on Twitter quickly noticed was that Jozy Altidore was too busy live streaming video for social media to notice Komarov coming in for the handshake. After accusations of being disrespectful, Altidore took to twitter to apolgozie and clear the air about the situation.
"Hey, Leo Komarov. Just wanted to apologize and let you know I was caught up in the moment at centre ice trying to show all of Toronto and the Toronto FC fans how amazing it was being there. Congrats on the win! Best of luck to you and the Maple Leafs this season!" said Altidore on his official Twitter account this morning.
Luckily for the MLS Cup MVP, Komarov completely understood the situation and let him know all was forgiven.
"Don't worry about it. Congrats on the success this year. Hope you enjoyed the game" replied Komarov.
With all the excitement and atmosphere in the arena, it's hard to blame Altidore for getting caught up in it all.