Tom Brady says family will play a big role in his eventual retirement decision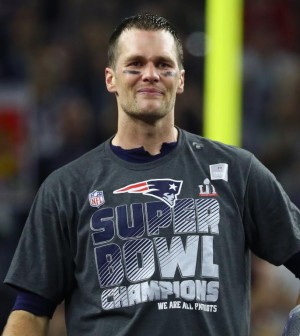 Don't get worried New England Patriots fans, because Tom Brady isn't retiring any time soon.
But let's not forget, nothing lasts forever. Eventually there will come a time when he will call it quits, whether its a year or two from now or another decade down the road.
While appearing on ABC's "Good Morning America" on Monday, Brady was asked about the possibility of retirement. He made it clear he isn't ready to retire just yet, but did explain his thought process and what will ultimately lead to the decision.
"You can't make decisions just for yourself, and I think that's one thing I've learned as I've gotten older: There is collateral effects to every decision that I make," said Brady.
"I have a wife that aspires to be a lot of things, and she travels a lot. My oldest son lives here in New York, three kids, and you're just always trying to juggle and you want to be there for them, and you want to be there for the hockey games and the soccer games. But you also realize the level of commitment it takes to give as much as you can to the team that needs you."
Brady, who is now 40-years old, will be entering his 19th NFL season later this year. In his career, he has already racked up 66,159 passing yards, 8,805 pass completions, and 488 touchdowns to go along with his five Super Bowl titles, four Super Bowl MVP awards, three NFL Most Valuable Player awards and 13 Pro Bowl selections.