TJ Dillashaw surrenders UFC bantamweight title, suspended one year after failed drug test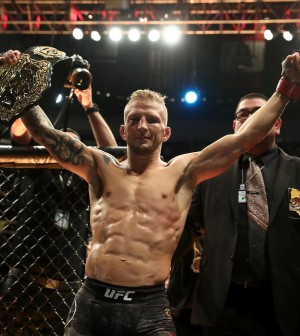 TJ Dillashaw has joined a list of four other fighters in UFC history that have been forced to give up their championship belts due to doping.
The UFC bantamweight title holder confirmed that he has voluntarily given up his UFC bantamweight title after the New York State Athletic Commission and the United States Anti-Doping Agency determined he tested positively for a banned substance while preparing for his loss to Henry Cejudo for the UFC Flyweight Championship at 'UFC Fight Night: Cejudo vs. Dillashaw' in Brooklyn, New York on January 19.
As a result, he will also be suspended from fighting for a year retroactive to the night of his recent defeat.
"To all my fans, I wanted to be the first one to let you know that USADA and the NYSAC have informed me of an adverse finding in a test taken for my last fight." said Dillashaw in a statement released through his official Instagram page.
While words can't even begin to express how disappointed I am at this time, please know that I'm working with my team to understand what has occurred and how to resolve this situation as quickly as possible. Out of fairness and respect to the rest of my division, I've informed the UFC that I'll be voluntarily relinquishing my title while I deal with this matter. I want to thank all of you in advance for the support."