Tiger Woods Makes a Hopeful Return
By
Admin
on November 30, 2017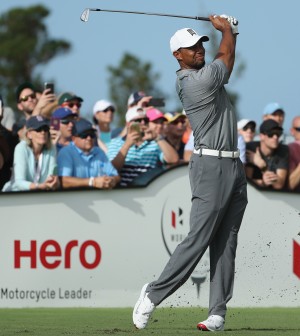 For the first time in almost a year, Tiger Woods returned to the green today for a round of competitive golf. Woods finished his first round 3-under-par 69. Also, thankfully, this was his first score in the 60′s since the last time he participated int the Hero World Challenge about a year ago. In the end, tied for eighth, the game left Woods a mere three strokes behind tournament leader Tommy Fleetwood. But most importantly, Woods seemed relieved to get the round out of the way.
Woods has been looking to hit a nice ryhythm in the game following a complicated back surgery this past spring and his DUI arrest that resulted in a rehab trip. It wasn't until october that Woods would be able to actually fully swing a club as his spinal fusion surgery had left him stiff and incapable. And although he had a few problems chipping the ball today, he definitely had the lower hand considering all his opponents had been practising all year and he had only just hit the green for the first time recently.
Some of the highlights of his play involved some key putts and hitting drives over 300 yards. Other players have noticed a change in his attitude, claiming he looks healthy and his swing is seemingly back. With only such a short amount of time on the green, it's uncertain as to whether or not he can come out of this tournament…a hero.