Tiger Woods Doesn't Know If He'll Ever Play Competitive Golf Again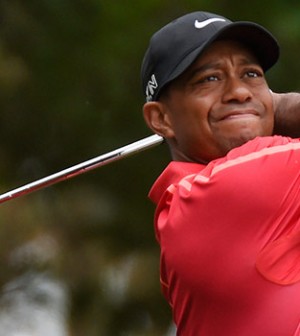 TIGER WOODS is only 41 years old . . . and it might sound crazy, but he doesn't know if he'll EVER play competitive golf again.
Tiger has been having problems with his back for a while now.  He had 'fusion surgery' on it earlier this year.  And it was his FOURTH procedure in three years.
He hasn't played since withdrawing from a tournament in February.  He's finally starting to do some putting in his back yard . . . but he has a long way to go.
He said he feels good now . . . but when asked if there's a possibility that he's NEVER able to make it back, he said, quote, "Yeah, definitely."
He added, quote, "I don't know what my future holds.  My timetable is based on what my surgeon says.  I'm still training.  I'm getting stronger.  But I certainly don't have my golf muscles trained, because I'm not doing anything golf related.
"Overall, I'm very optimistic how I'm progressing . . . the pain's gone, but I don't know what my golfing body is going to be like, because I haven't hit a [full] golf shot yet."  (Here's video.)