Tiger-Cats trade QB Zach Collaros to the Roughriders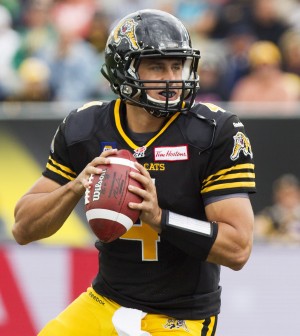 Making room for Johnny Manziel?
The Hamilton Tiger Cats made a big splash on Wednesday, trading starting quarterback Zach Collaros to the Saskatchewan Roughriders in exchange for the 10th overall pick in the 2018 CFL Draft.
Collaros, 28, had spent the past four seasons with Hamilton after initially being acquired in a deal with the Toronto Argonauts in January 2014. During his tenure, he led the franchise to three CFL playoff appearances, including a trip to the Grey Cup in 2013 and East Final in 2014.
He is fresh off the worst statistical season of his career in 2017, finishing with a career low in pass completions (167), pass completion percentage (62.8%) and quarterback rating (81.1). He failed to record a single win in the nine games he played last season, and recorded just eight touchdowns to go along with seven interceptions during that span.
The Roughriders are hoping he bounces back to his previous form when he was considered as one of the top young quarterbacks in the league.