Ticats promote Orlondo Steinauer to head coach, move Jones to other roles in coaching staff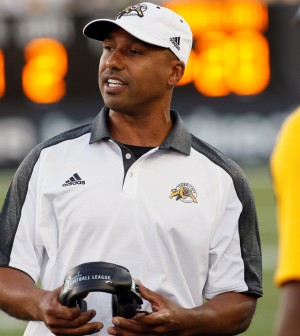 New year, new coach.
The Hamilton Tiger Cats found their new head coach within the organization, and have officially promoted former assistant head coach Orlondo Steinauer to the position on Monday.
Last year's head coach June Jones has been reassigned to become the team's associate head coach and offensive coordinator.
"After working closely with Orlondo last season, it was obvious to me that he's ready to take the next step in his career and become a head coach in the CFL," said Jones about the coaching change.
"He's earned this opportunity and the time was now. I made a decision that in order to put our best foot forward and bring a Grey Cup championship back to Hamilton, we needed to keep him here and expand his role. Winning is the most important thing and I'm excited about our great opportunity for success in 2019 with Orlondo returning as head coach."
The 45-year old former five-time CFL All-Star has also previously enjoyed stints as Toronto Argonauts defensive backs coach and defensive coordinator, and Ticats defensive coordinator since retiring back in 2008.