The Warriors are experiencing legitimate adversity for the first time in years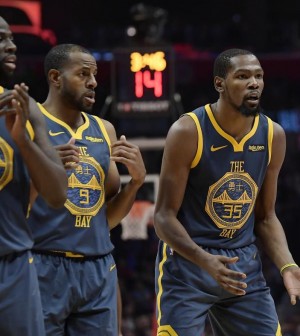 Who would've thought this would ever happen?
The defending two-time NBA champion Golden State Warriors were expected to do what they've been doing since 2016/17, which is basically ease themselves through the regular season, finish in one of the top 2 Western Conference seeds, and dominate in the postseason on the way to yet another NBA title. They've won three in the past four seasons, and if it weren't for their infamous 3-1 choke job in 2016, they would have been come into the season with four consecutive NBA titles. However, things have not gone as expected.
Hampered by significant injuries in their starting lineup (Steph Curry, DeMarcus Cousins), and a highly-publicized feud between two of their star players that resulted in a one-game suspension, the Warriors have struggled to do what they do best: win games. With last night's loss to the San Antonio Spurs, the Warriors extended their losing streak to three games, which is the longest active losing streak in the league at the moment. They have also lost four of their last five, and have fallen to second place in the Western Conference with a 12-6 record.
"I've had a dream run for four and a half years. We've had such a charmed existence the last four seasons. This is the toughest stretch we've been in." said Warriors head coach Steve Kerr.
"This is the real NBA. We haven't been in the real NBA the last few years. We've been in this dream. And so now we're faced real adversity and we got to get out of it ourselves."
Warriors can turn things around quickly. They embark on a four-game home stand beginning Wednesday vs the Oklahoma City Thunder. They have dominated as usual at the Oracle: sporting an 8-1 record in front of the home crowd so far this season.
No word yet on when Steph Curry will return to the lineup.