The US Sees Growth In Soccer Fans
By
Admin
on January 9, 2018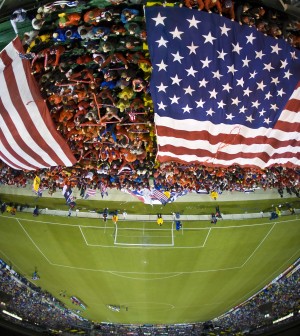 A new poll has suggested that soccer could find itself amongst the list of top sports in America after it found that 7% of Americans name it their favourite sport. As other sports like football and basketball have lowered in their "favourited" ratings. And with baseball at a reported %9 favoured sports percentage, it looks like soccer is slowly creeping up into American cultural ethos, with young people at the  forefront of these numbers. As a matter of fact, so soon after the American team's elimination from the World Cup this year are what make these statistics especially important.
Over the years, soccer has obviously faced an uphill battle as it goes against the more predominant American sports cultures as well as a lack of coverage by the US media. Not to mention, it's the only sport in the country that doesn't see a widespread flocking of the world's top notch professionals joining their MLS league. The NFL, NHL, MLB and the NBA all respectively draw the attention of their respective athletes at a world-wide level but MLS is still struggling to do the same.
And although television ratings aren't necessarily indicative of a growing fanbase within the country, it's important to note that MLS is struggling to compete with Premier League and many of the other European Leagues which currently boast significantly higher ratings. The country's sports landscape is evolving, that's for sure. And as times and sensibilities change amongst generations, it's very possible that soccer could eventually earn its seat at the table as one of the most popular sports in the country.