The Story of Aaron Hernandez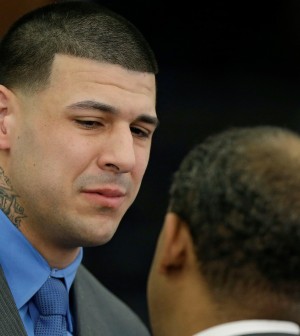 Back in spring 2013, Aaron Hernandez spent his final day with the New England Patriots after three years with the team. Following a tonally strange interview, Hernandez walked off the field leaving a group of reporters behind.
It was less than one week later that he was convicted of murder. The police searched his home in response to the discovery of a body of a friend about a mile away from his home, further learning that he hired housecleaners on the day the body was discovered, in addition to Hernandez's phone being turned into the police.While this all unfolded, the Patriots decided to sever ties with the player and soon after Hernandez was arrested.
Fast forward two years later as Hernandez was found guilty and sentenced to life in prison. But this wasn't the first time Hernandez had been involved in criminal activity. Hernandez had been connected to a bar shooting, fights, shooting a friend and a double homicide.
Yesterday, it was reported that correction officers discovered Hernandez's body hanging in his cell, dead. Clearly, it's been a rocky road for Aaron Hernandez from the beginning. And with his connections to other criminal acts, it's apparent that there were bigger internal struggles than anyone could have guessed.