The San Jose Sharks Are Off To The Stanley Cup Finals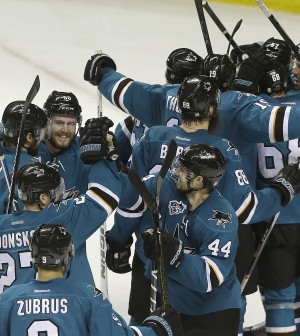 THE SAN JOSE SHARKS ARE OFF TO THE STANLEY CUP FINALS!!!!
For the first time in franchise history, the San Jose Sharks will be competing for the Stanley Cup. In 1991, the NHL expanded to 22 teams; adding the San Jose Sharks. In their 25 years of existence, the team has fallen short on numerous occasions and simply hasn't had much success in the playoffs. The Sharks have always had difficult match-ups in the playoffs and have never made it this far.
The San Jose Sharks have a solid team, all through their lineup. From great goaltending to young goal-scorers, to veteran leadership, and more; the Sharks have it all this year. Logan Couture (24P), Joe Pavelski(22P), and Brent Burns (20P) are currently top 3 in the playoffs for most points.
The Sharks were leading the series 3-2 when they took on the St. Louis Blues in game 6 last night. The Sharks held their own destiny last night. If they won they were going to the Stanley Cup Finals, but if they lost they were going to face off against the Blues in game 7 in St. Louis. Last night the Sharks played like they wanted to win. They came out flying and Joe Pavelski scored the first goal of the game at 03:57. The Sharks were able to maintain their 1-0 lead for the rest of the period. The Sharks knew they needed to score again to have a comfortable lead. They did exactly that; Joel Ward made it 2-0 05:02 into the period. The Sharks were playing with a comfortable lead and shut out the Blues in the 2nd. The Sharks were feeling confident going into the third and only added on to their lead in the third. Joel Ward was able to score another one, making it 3-0. The Sharks weren't done just yet. Joonas Donskoi scored his 5th of the playoffs and added on to the Sharks 3-0 lead. The Sharks were up 4-0 with 11:49 to go in the game. The Blues managed to score 2 quick goals and cut the lead to 4-2. The Blues, unfortunately, waited too long to get going and were unable to recover from a 4 goal deficit. The San Jose Sharks won this one 5-2 and are now awaiting the winner of the Lightning, Penguins series.
The Lightning and Penguins will face off tonight in what should be an exciting game 7.