The Rundown of the White House Patriots Meet and Greet
By
Admin
on April 20, 2017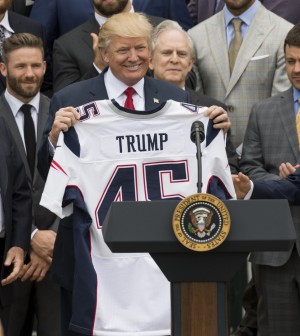 Following in the footsteps of past administrations, yesterday, President Trump hosted and honoured winning Superbowl team, The New England Patriots, at the White House. However,  these days anything Trump related gets cross-referenced, compared and contrasted with past administrations, particularly the Obama administration, and yesterday's Patriots White House meet and greet was no different.
One notable contrast came in the form of a side by side comparison of the group photo in front of the white house in 2017, as well as the same picture taken in 2015. Social media shared the image and drew opinionated comments, eagerly awaiting the inevitable Trump response tweet. And while the response never actually came, naturally, there were a series of moments that stood out during the ceremony. For instance Trump commenting on some incredible plays by players that weren't present at the event despite otherwise not bringing up plays made by those who didn't show up. Much speculation has been made about Tom Brady's absence and the current status of his friendship with Trump. Lastly, a bizarre anecdote about player Belichick who sent him a letter during the primaries, and asked to have it back to revise upon learning that Trump was going to read it at a rally.
Despite some players citing political reasons for not showing up to the event, looking at the numbers, it seems as though this kind of turnout is fairly typical with controversial administrations, as seen with the attendance during the Bush Jr. years. But if there were any parallel to draw between the patriots win and Trump's presidential win, he made it very apparent that when the media says that you have no chance, there's always a way to pull a major comeback.