The Freshman shine as Alabama pulls of the comeback victory over Georgia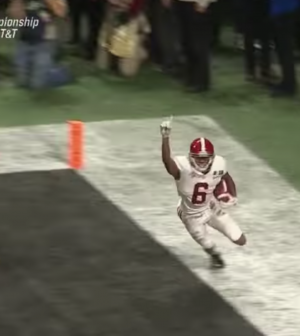 At halftime you knew something had to change for Alabama, they were down 20-10 and their offence looked awful, while Georgia's defence looked dominant. It was known earlier that Jalen Hurts, Alabama's starting QB doesn't have all the tools just yet to get the job done through the air, so to start the 2nd half Nick Saban went with freshman QB Tua Tagovailoa, which turned out to be the right decision.
Tagovailoa brought the Tide back into the game and put them in a position to win the game with a 30-something yard FG but it was missed by the kicker Pappanastos and we were headed to OT. After Georgia's drive was stalled, their kicker nails a 51 yarder to take the lead, that's gotta sting for Pappanastos. 'Bama ball and disaster strikes on 1st down… Tagovailoa shows his inexperience and instead of throwing the ball away, runs backwards 16 yards and takes a sack. 2nd & 26 when the freshman connection leads to glory.
DeVonta Smith, freshman receiver talks about what happened.
"I looked at Tua and said, 'Trust me,' and he nodded his head," Smith said. "When I saw they were in Cover 2, I knew we had a chance."
On the next play, Tua threw a perfect fuckin ball right to Smith who caught it on the 5 and walked into the end zone to seal the National Championship for Alabama.
Obviously for Hurts, getting benched on the biggest stage you have played on in your life and could be the biggest stage he ever plays on must've stung, but he took it all in stride and knew that the move to Tua was the right one.
"As a competitor, of course you understand it," Hurts said. "As a team player and as a leader, you've got to do what's best for the team. If that's what was best for the team, then I support it completely.

"In the national championship game, all the personal things, that's out the window. You want to win this game for the team."
What a game it was, capped off with an unbelievable finish.
Just sucks Alabama comes in 2nd place to the actual National Champ… U.C.F.
Full game highlights: