The Eugenie Bouchard Twitter Date Play-By-Play
By
Admin
on February 16, 2017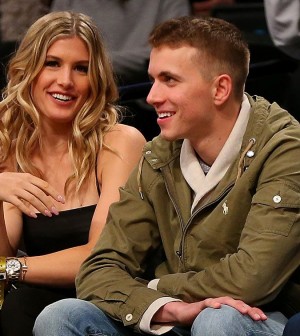 Professional tennis player Eugenie Bouchard has maintained a cultural presence beyond her days on the court. Between her modelling ventures and her online presence interacting with fans, she's gained a following most tennis players could only dream of. Recently, however, her online presence has brought the world a very charming little tale regarding her and the Superbowl. In today's online news environment it's easy to miss bits and pieces of the news so here's the basic story..
Lat into the incredible Superbowl game last Sunday, Bouchard had tweeted "I knew Atlanta would win BTW" just before Tom Brady turned things around, utilizing his own insane game winning dexterity. The first comment in response to Bouchard's twitter claim was from a 20 year old man named John Goehrke saying "If Patriots win, we go on date?." And in a passive reply, Bouchard replied with a minimalist "sure". In a later Tweet, Bouchard admitted that she jumped the gun. And as far as the Twitterverse was concerned, that was the end of the story. However, yesterday, she posted a photo of herself and John on the way to a Nets game, followed by some videos and an interview with TMZ. When asked if they would enjoy another date together she openly acknowledged her skepticism (because it's the internet) but stated that John had turned out to be a great, normal guy.
So that's the entirety of this unpredictable sports couple's saga thus far. For a story that started with a pro tennis player watching some football and ending up with an internet fan date at a basketball game, it's remarkable that things have gone this far, and just in time for Valentines day! We'll see how this story develops and who knows, it could even become a sports "how I met your mother" tale for future generations.