Tennys Sandgren goes on rant criticizing media following Australian Open loss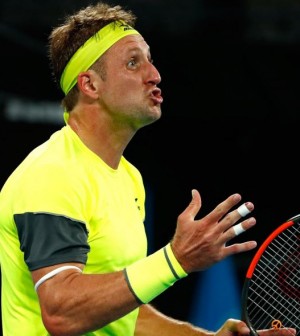 American tennis player Tennys Sandgren has been under fire the past couple days after people who researched his Twitter feed discovered he follows and has liked posts from several Alt-Right groups and described Serena Williams as 'disgusting' in a separate tweet.
Shortly after his 6-4, 7-6 (5), 6-3 loss to Korean Hyeon Chung in the Australian Open quarterfinals on Wednesday, he dedicated a portion of his post-match news conference to address the controversies and lash out at those in the media who are painting him as a villain.
"With a handful of follows and some likes on Twitter, my fate has been sealed in your minds…To write an edgy story, to create sensationalist coverage, there are a few lengths you wouldn't go to to mark me as the man you desperately want me to be." said Sandgreen.
"You would rather perpetuate propaganda machines instead of researching information from a host of angles and perspectives while being willing to learn, change, and grow. You dehumanize with pen and paper and turn neighbour against neighbour. In so doing, you may actually find you're hastening the hell you wish to avoid, the hell we all wish to avoid."