Svechnikov in concussion protocol after getting knocked out by Ovechkin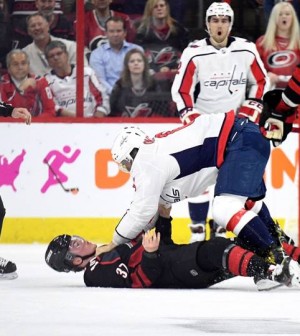 Andrei Svechnikov is feeling the effects of Alex Ovechkin's fists.
The Carolina Hurricanes confirmed Tuesday that they 19-year old rookie forward is in concussion protocol just hours after getting knocked out during a fight with the Washington Capitals superstar in Game 3.
His status for Game 4 is unknown. One thing the team won't do for sure is try to rush him back to action.
"We're going to be real careful. We're always careful…We're certainly not going to rush him back." said Hurricanes head coach Rod Brind'Amour.
"Seeing him now, he looks normal and feels great…that's a real positive sign."
Svechnikov has posted two goals, and one assist in three games this series. He is coming off an impressive rookie campaign where he compiled 20 goals and 17 assists in 82 games
Hurricanes trail the Capitals 2-1 in the best-of-seven first round series.