Sumlin on the hot seat at Texas A&M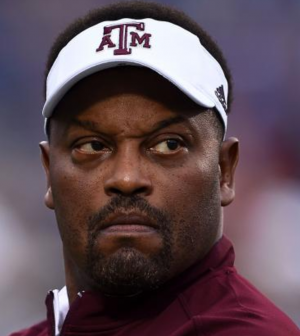 After a late game collapse to the UCLA Bruins, Kevin Sumlin the head coach of Texan A&M has been getting heat from all over the place. Even coming into the season the athletic director Scott Woodward had some harsh words for Sumlim.
"We were very disappointed, very disappointed as a program, both coach and I," Woodward added. "We just want to make darn sure that we're going to get it right…but coach knows he has to win and he has to win this year and we have to do better than we've done in the past."
The most recent person to bring the heat to Sumlin was Texas A&M regent Tony Buzbee saying that he wants to coach fired.
Sumlin recently spoke out about all the negativity he's facing.
"People are frustrated. I'm frustrated about a lot of things," Sumlin told Sam Khan Jr. of ESPN. "I'm not real happy. I'm sure there are a lot of things being said about this program. Our focus is on us. That never changes. I'm not in the business of really paying attention to anything outside this program, or comments good or bad. My focus is on what we can do to be better. I don't really have time to get involved in things that are said about the program or about me."
Well after losing a game like this, I'd be frustrated too.