Stroman sounds off after losing arbitration case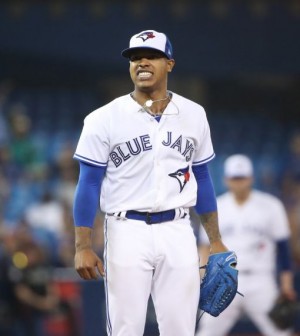 Toronto Blue Jays pitcher Marcus Stroman lost his arbitration case on Thursday, and wasn't happy about what transpired during the hearing. He took to Twitter to express his disappointing in how everything turned out.
"Lost arbitration. Is what it is. Looking forward to going out and dealing again." said Stroman in a now-deleted tweet.
"The negative things that were said against me, by my own team, will never leave my mind. I'm thick-skinned so it will only fuel the fire. Can't wait for this year!"
The 26-year-old, who was rewarded $6.5 million in 2018,  was aiming for a $6.9 million salary prior to arbitration.
He is coming off a career-year where he posted a 13-9 record, 3.09 ERA and 1.31 WHIP over 33 starts and 201.0 innings pitched in 2017. He finished 8th in CY Young voting, and won a Gold Glove Award for the first time in his career.
Stroman assured Blue Jays fans that despite his words, he does not hold a grudge against the organization and remains happy being north of the border.
"Just being real. Not mad at all." added Stroman shortly after his arbitration tweet.
"I'm aware of the business. Just opens your eyes going through the arbitration process. Second time going through it. Still love my team and the entire country of Canada. More upset that I had to fly to AZ and miss my Monday workout. Lol"