Steve Pearce named World Series MVP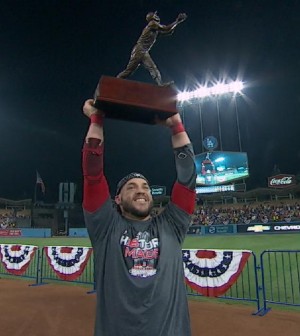 The best part about the MLB postseason is you never know who's going to come up
After the Boston Red Sox clinched their fourth World Series title in 15 years with a 5-1 victory over the  Los Angeles Dodgers in Game 5, veteran slugger Steve Pearce was announced as the World Series MVP.
The 35-year old posted a .333 batting average, .500 on-base percentage, .1.667 OPS, three homers and 8 RBI in the series.
"You never know where the game will take you. And I've gone through a lot in my life or in my career to be here, and I couldn't be more thankful." said Pearce after receiving the award.
His did most of his damage in Games 4 and 5, where he recorded three homers, 7 RBI and reached base safely five out of a possible nine times.