Steph Curry thinks Dwyane Wade's "got a lot more in the tank"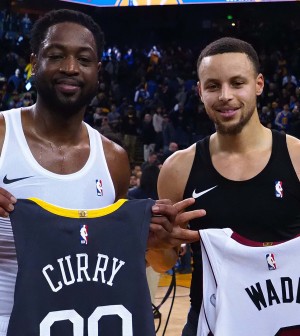 After the Golden State Warriors' hard-fought 120-118 win over the Miami Heat on Sunday night, Steph Curry and many of his teammates each embraced and shared a moment with future Hall-of-Famer Dwyane Wade.
Barring an unforeseen change of heart, this is going to be Wade's last NBA season, and likely the last time he ever plays at Oracle Arena (unless the Heat shock the basketball world and advance to face the Warriors in the NBA Finals).
Following the game, Curry was asked to share his thoughts about Wade's plan to retire after the 2018/19 season. Like many of his peers, he feels Wade has more to prove on the court and should reconsider his plans for at least a couple more years.
"It seems like he's got a lot more in the tank. That's what I told him after the game." said Curry.
"It's a different energy when he gets the ball. You understand how important he's been to the game throughout his career. No matter who you root for throughout the league, you respect greatness in terms of what he's been able to do throughout his entire career. Tonight wasn't a loud night [in terms of performance], but he had some pretty influential plays."
Wade finished with 10 points, a team-high nine assists, and six rebounds in 28 minutes on the night.
The Heat continue their six-game road trip against the Denver Nuggets tonight at 9pm/ET.