Stampeders QB Bo Levi Mitchell wins 2018 CFL Most Outstanding Player Award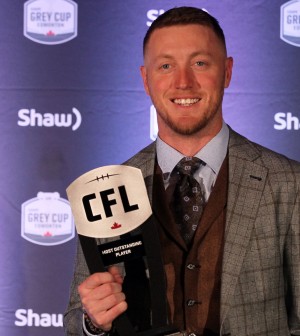 For the second time in his CFL career, Bo Levi Mitchell can call himself an MVP.
The 28-year old Calgary Stampeders quarterback was officially named the CFL's Most Outstanding Player for the 2018 season on Thursday night.
In 18 games, Mitchell completed 356 of 585 pass attempts for 5,124 yards, and finished with a league-leading 35 passing touchdowns.
Despite taking home the hardware, Mitchell admits it won't feel truly satisfying unless his Stampeders can end their drought and win the Grey Cup on Sunday.
"We're judged, first and foremost, by championships," said Mitchell.
"I believe winning a Grey Cup won't be revenge or redemption for the last couple of years but it will build on a legacy that this organization has put together over decades of work."