Spurs to retire Manu Ginobili's jersey on March 28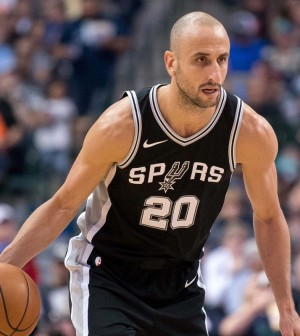 The San Antonio Spurs are set to honour one of their  greats in a big way.
The team announced that they will retire Manu Ginobili's no.20 prior to their game against the Cleveland Cavaliers at the Staples Center on March 28.
He will become the ninth player in the franchise's 45-year history to have a jersey number retired. The others were Avery Johnson (6), Bruce Bowen (12), David Robinson (50), George Gervin (44), James Silas (13), Johnny Moore (00), Sean Elliott (32) and Tim Duncan (21).
The 41-year old, who was selected 57th overall in the 1999 NBA Draft, spent his entire 16-year career with the Spurs from 2002-2018, averaging 13.3 points, 3.8 assists and 3.5 rebounds in 1057 games during that span.
He was a four-time NBA Champion, two-time NBA All-Star, and a recipient of the NBA's Sixth Man of the Year Award in 2008.